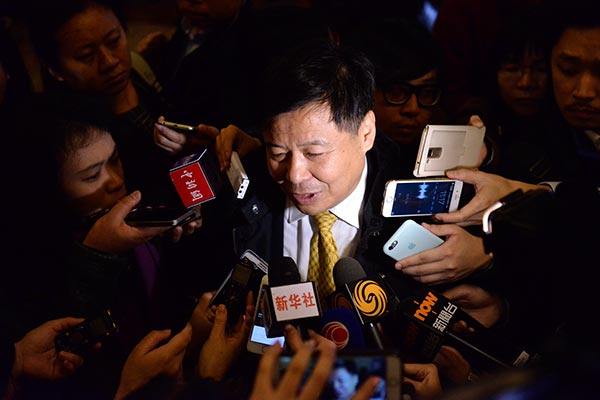 China's Vice-Finance Minister Zhu Guangyao is surrounded by reporters as he arrives at the Great Hall of the People to attend the opening session for the fourth session of the 12th National People's Congress (NPC) at the Great Hall of the People in Beijing, March 5, 2016.[Photo/CFP]
China maintaining medium to high economic growth will be critical to the global economy, Vice-Finance Minister Zhu Guangyao said on Monday.
Zhu said that the coming years guided by the country's 13th Five-Year Plan (2016-20) will be a crucial period for both the Chinese and the global economy.
China should attach importance to the commercialization of scientific research results to improve the growth potential and innovation of its economy, said Zhu, who is also a member of the Chinese People's Political Consultative Conference National Committee, on the sidelines of the ongoing session of the top political advisory body.
Meanwhile, Zhu warned about the challenging external environment could pressure China's structural reform.
Zhu said that the declining global trade and the low interest rate environment as well as the divergence in the development of emerging economies will pose challenges to the Chinese economy.
"The global interest rate level has moved toward the lowest level in 20 years and it is likely to continue to fall. If the euro zone and Japan continue to adopt the policy of negative interest rates, the global economy will be under greater pressure of deflation," he said.
When asked about the progress of the Asian Infrastructure Investment Bank, Zhu said that the bank's development has been smooth and it is preparing for the first batch of investment projects.