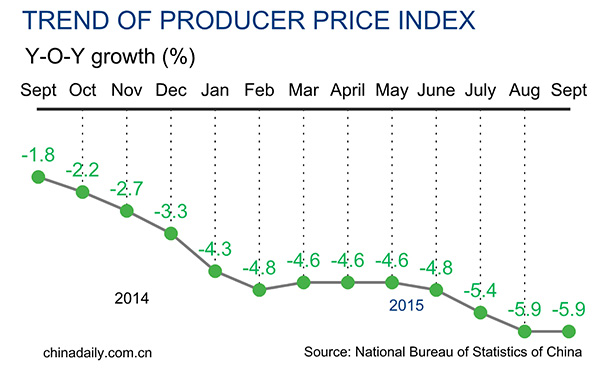 BEIJING - China's producer prices continue to fall in September, signalling prolonged weakness in aggregate demand, data from the National Bureau of Statistics showed on Wednesday.
The producer price index, a measure of costs for goods at the factory gate, fell 5.9 percent year on year, unchanged from the rate seen a month earlier.
The reading also marked the 43th straight month of decline.
Minsheng Securities reckons the index will stay in negative territory in the foreseeable future as China still has a long way ahead to digest its over-capacity in upstream industries.
In addition, the country's ongoing economic restructuring means a trending slowness in demand for traditional industrial goods, which will restrain prices.
Month on month, producer prices in September edged down 0.4 percent.
Output prices of production materials fell 7.7 percent in September, contributing 5.8 percentage points of the PPI drop during the month, while those of consumer goods edged down 0.3 percent during the period.
The data came along with the release of the consumer price inflation index, which edged up to 1.6 percent in September, slightly below the market forecast of 1.8 percent and 2-percent rise in August.
The downcast PPI and slowing CPI highlighted deflation pressure for China, Minsheng said, projecting a high possibility of further cuts in interest rates and the bank reserve requirement ratio in the fourth quarter.
China is battling a property downturn, industrial overcapacity, sluggish demand and weak exports, which dragged growth down to 7 percent for the first half of the year. Growth data for the third quarter is due next week.