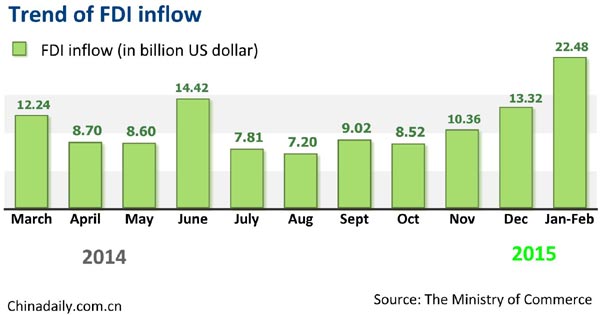 BEIJING -- Foreign direct investment (FDI) in the Chinese mainland jumped 17 percent year on year in the first two months of 2015, settling at $22.48 billion, the Ministry of Commerce (MOC) announced Tuesday.
The pace slowed from a 29.4 percent increase registered in January. However, it far exceeded the annual growth rate of 1.7 percent posted for 2014.
Service industry FDI totaled $13.73 billion in January-February, up 30 percent year on year. This accounted for 61 percent of all FDI during the period. In the service sector, financial services and transport services attracted the most investment.
Manufacturing FDI was comparatively lower, posting a growth rate of 7.1 percent, totalling $7.47 billion during the period. It accounted for around 33 percent of the total FDI.
Along with the FDI surge, the number of newly registered foreign-funded companies jumped 38.6 percent in the first two months of the year, totalling 3,831, the data showed.
China's Hong Kong Special Administrative Region (SAR), Taiwan, the Republic of Korea, Singapore and Japan were the top five FDI contributors during the period.
During the period, FDI into the country's eastern and western regions registered stable growth, rising 25.9 percent and 6.6 percent, respectively; while FDI into the central regions fell 29.5 percent year on year, the data showed.
In an effort to facilitate foreign investment, the MOC released a revised guideline for foreign investment on March 10 in which the number of restricted industries went from 79 to 38.
Meanwhile, industries in which Chinese investors must hold stakes were axed from 43 to 15 and those requiring Chinese investors hold controlling stakes were reduced from 44 to 35, according to the revised industrial catalogue for overseas capital, which will take effect on April 10.
MOC spokesman Shen Danyang said on Tuesday the new catalogue also encourages overseas investors to invest in sectors such as modern agriculture, high-tech, advanced manufacturing, energy savings and environmental protection, new energies and other modern services.
Tuesday's data also showed outbound direct investment (ODI) by non-financial firms surged 51 percent to $17.42 billion in the first two months, with Hong Kong SAR, the Association of Southeast Asian Nations (ASEAN), and the European Union named the top three investment destinations.
China has become a net capital exporter for the first time, with ODI outnumbering capital inflows in 2014.