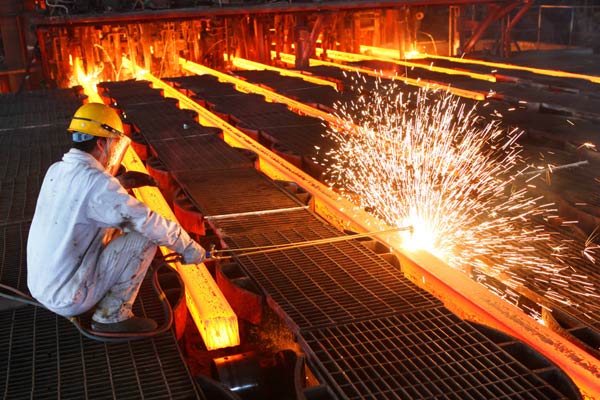 A worker cuts steel bars on the production line of a mill in Lianyungang, Jiangsu province. The HSBC flash manufacturing PMI for November dropped to 50.0 from the October final reading of 50.4, HSBC said in a report. Si Wei / For China Daily
BEIJING - HSBC's November preliminary purchasing managers' index (PMI) for China has dropped to a six-month low of 50.
The HSBC flash manufacturing PMI for November dropped 0.4 from the October final reading of 50.4, below the market consensus of 50.2, HSBC said in a report.
A reading above 50 indicates expansion, below contraction.
In addition, the HSBC flash China manufacturing output index for November dropped to a seven-month low of 49.5 from 50.7 in October, according the report.
PMI, which samples 420 small and medium-sized manufacturing enterprises, signaled that deflationary pressure remains strong and the labor market continues to weaken, HSBC chief China economist Qu Hongbin said.
"Furthermore, we still see uncertainties in the months ahead on the property market and export fronts. We think growth still faces significant downward pressure and more monetary and fiscal easing measures should be deployed," he said.
The breakdown of the data showed that the Asia-Pacific Economic Cooperation (APEC) meetings that were held in Beijing early this month exerted a temporary drag on industrial production and inventory demand continued to decline significantly, while government investment in infrastructure might be the main stabilizer of growth, said Bob Liu, analyst at the China International Capital Corp.
"The production index slipped into contraction territory, partly reflecting the temporary impact from APEC. The factory shutdown in north China during APEC (meetings) dragged down the production index," he said.
The economy grew at its slowest pace in the third quarter since the global financial crisis, expanding 7.3 percent from one year earlier, as the cooling property sector weighed on demand.
The National Bureau of Statistics said that China's industrial output grew 7.7 percent year on year in October, down from an 8 percent in September.
For the first 10 months, industrial production growth decelerated to 8.4 percent year on year, down 0.1 percentage points from the first nine months of 2014.