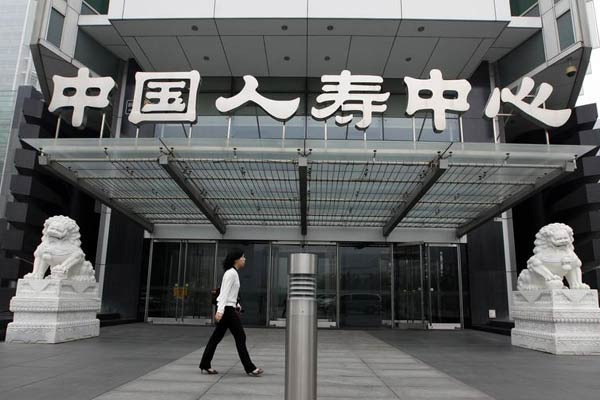 A woman walks past China Life Insurance Co Ltd headquarters building at Beijing's Financial Street in this October 26, 2012 file photo. [Photo/Agencies]
BEIJING - China Life Insurance Company, the country's largest insurer, reported profits for the first half of the year grew 13.6 percent year-on-year to 18.4 billion yuan ($3 billion).
Earnings per share also advanced 13.6 percent year-on-year to 0.65 yuan, the insurer reported in a statement filed to the Shanghai Stock Exchange on Wednesday.
Its operating revenue in the first half, however, fell 3.5 percent from a year earlier to 243.7 billion yuan. Net premiums fell 3.5 percent year-on-year to 193.8 billion yuan.
China Life, listed in both Shanghai and Hong Kong, said increase of half-year profit was primarily due to the change of discount rate assumption of reserves for traditional life insurance.
It maintained a leading position in China's life insurance market, with a market share of 25.7 percent in the first half of this year.
By the end of the first half, total assets of China Life stood at 2.12 trillion yuan, up 7.5 percent from the end of 2013.
The company plans on participating in the capital introduction of Sinopec Sales, a subsidiary of China's largest oil refiner Sinopec.
Sinopec announced in February that it would sell up to 30 percent of Sinopec Sales to institutional and private investors by the year-end as the Chinese government was pushing forward with restructuring of State-owned assets.