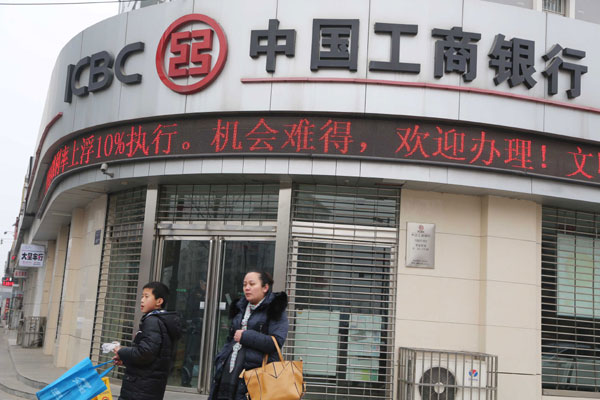 Two residents waiting for an ICBC branch in Xuchang, Henan province, to open for business. Geng Guoqing / For China Daily 
Bank penetrates overseas markets to stabilize profit and dilute risks
Industrial and Commercial Bank of China Ltd posted a net profit of 263 billion yuan ($42.3 billion) in 2013, up 10.2 percent from the previous year.
ICBC kept its asset quality stable, with adequate allowance and controllable risk, by focusing on preventing risks in industries with excessive capacity as well as in small and micro-enterprises that are more vulnerable to economic fluctuations.
"We will continue to tweak our asset-liability mix and to guard against possible credit risk so as to maintain good asset quality this year," said Yi Huiman, the bank's president, at a press briefing on Thursday.
At the end of 2013, the balance of the bank's loans to local government financing vehicles fell by 94.3 billion yuan from the previous year. There were no new non-performing loans in the sector during 2013, and the NPL ratio of LGFV fell by 0.24 percentage points to 0.15 percent.
The balance of real estate development loans dropped by 8.6 billion yuan, and the NPL ratio was down by 0.03 percentage points to 0.72 percent.
"We make detailed assessments not only of property developers but also of different geographical areas and different cities. After the appraisal has been completed, we will have a list of the developers and the cities that ICBC will accept," said Wei Guoxiong, chief risk officer of the bank.
He noted that ICBC will observe case by case and require different proportions of capital for the property developers according to the risks involved. Its requirement for their capital is 10 or 20 percentage points higher than the national standards.