Covert guarantee
Richard Jerram, chief economist of the Bank of Singapore, said in an interview that China's excess investment not only lowers its productivity and economic growth but also sows the seeds for a government debt crisis.
The United States offers a good example of recalibrating the calculation of GDP according to changes in the nation economic landscape.
In the 2008 GDP calculation in the US, private consumption took up 70 percent, government spending 20 percent, investment 15 percent and net exports minus 5 percent.
The consumption of private consumers and government accounted for 90 percent of US GDP and the modern service sectors, especially the financial industry, grew extremely fast.
In contrast, after 2008, investment's share of China's GDP rose to 47 percent from 42 percent. Household consumption remained at about 35 percent, and government consumption stayed at about 13 percent. Exports' contribution fell from nearly 9 percent to 4 percent.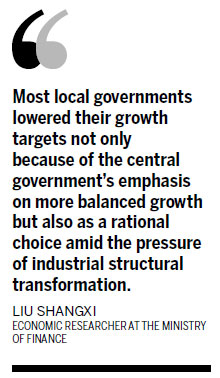 To reflect structural economic changes, the US Bureau of Economic Analysis - part of the Department of Commerce - revised its GDP calculations in July 2013, which increased the size of the US economy by 3.6 percent.
The newly added value came from the input into research and development, entertainment, literature, art and real estate transfer commissions, among other factors.
The structural GDP adjustment lowered consumption's share in the US national economy and highlighted the importance of investment in innovation.
In 2012, the share of investment in US GDP rose to 16 percent from 14 percent, while consumption's contribution dropped to 68 percent from 71 percent.
China can learn from the US move, which accurately depicts industrial structural changes.
Another noteworthy factor affecting GDP growth in China is the waning of the "demographic dividend" as the population ages quickly.
China's latest census found that the number of people of working age (15 to 60 years old) started dropping in 2011.
Even using an average age of retirement of 64, which is the international convention, China's working-age population began declining from 2013.
Experts said the Chinese government should include R&D inputs in its GDP calculations. And local governments' expenditure on raising living standards should also be counted in the GDP, to rebalance consumption and investment.