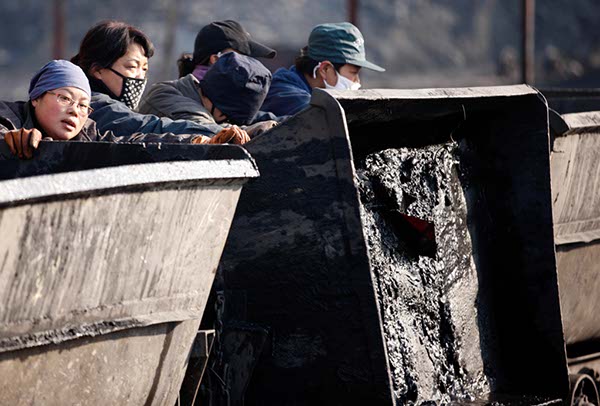 Workers at a coal mine. China's energy consumption per unit of GDP is 2.5 times the world average, 3.3 times the US', 7 times Japan's and higher than that of some developing countries such as Brazil and Mexico. [Xie Zhengyi / for China Daily]
Cheng Siwei, who is president of the Chinese Society for Management Modernization, warned recently that governments' reliance on investment to fuel growth hasn't declined and excessively rapid investment growth persists.
Since January 2011, annual investment growth in China has stayed at 16 to 18 percent, well above 1.4 times the growth of GDP. Said Cheng: "It's abnormal and harmful."
Cheng warned that excess investment is going into low-quality projects that don't produce results quickly or efficiently.
"Investment is like opium for government in its endless pursuit of GDP growth," said Cheng. Once addicted, the pursuit of growth will become a vicious cycle and "the government must borrow more to generate new investment for new growth."
Investment is still the driving force of GDP growth Central China, an area that's seen as a bellwether of the growth model and its transformation. The region connects the better-off east and the backward west, industrially and geographically. Investment accounted for more than 70 percent of GDP growth in 2013 in the region.
Government debt is yet another facet to the debate over investment.
The National Audit Office said on Dec 31 that total direct government debt hit 20.7 trillion yuan in June 2013, and the overall debt of governments of various levels was 30.28 trillion yuan, of which 17.9 trillion yuan was local government debt.
Although the debt ratio of the Chinese government is 39.4 percent, well below the international warning line of 60 percent, the real risks aren't in the absolute size of the debt - they're in the structure and risk.
"The current main solution of deleveraging not only raises the real economy's financing costs by a large margin, but it also increases the structural tension of liquidity," said Zhang Monan, an economic researcher at the Beijing-based State Information Center.
"China needs structural solutions to suit the remedy to the case, as the investment-driven growth model cannot be changed overnight."
To tackle local governments' addiction to borrowing, the central government should end its covert guarantee system, which is closely related to the unrestricted expansion of local government debts, argued Zhang.
The marginal capital yield of investment has dropped markedly since the national stimulus package in 2008.