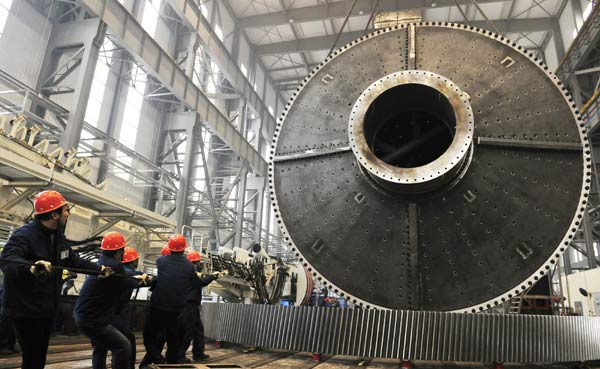 The cylinder of a grinding mill is hoisted at an assembly plant in Luoyang, Henan province. The profits of large industrial companies grew 12.2 percent last year to 6.28 trillion yuan ($1.04 trillion). [Photo by Huang Zhengwei / for China Daily]

Recent economic indicators have confirmed trend of softening of momentum
The total profit of large industrial companies increased at the slowest pace in nine months in December, rising 6 percent to 942.53 billion yuan ($155.8 billion), compared with 9.7 percent growth in November, the National Bureau of Statistics said on Tuesday.
For the full year, industrial profits reached 6.28 trillion yuan, up 12.2 percent. The 2012 growth rate was only 5.27 percent.
Large companies are defined as those with annual revenues of more than 20 million yuan.
Profits from industrial companies' principal business in 2013 increased 4 percent year-on-year, according to the NBS.
Last year, profits rose for 35 industries out of 41.
Profits for the top five industries, including heat production and supply, vehicle manufacturing and non-metallic mining, increased 376.67 billion yuan, accounting for 55.3 percent of the increase in total industrial profits.
Fast-expanding sales, a decline in the cost of goods sold and reduced raw materials prices supported industrial profit growth in 2013, said He Ping, a senior NBS economist.
"But some industries had lower profits because of weak demand, such as the petroleum and natural gas production," noted He.
Industrial output grew 9.7 percent year-on-year in December, held down by weaker infrastructure investment, which in turn was attributed to the slower pace of credit growth.
The preliminary January reading for HSBC Holdings Plc's manufacturing purchasing managers' index fell to 49.6, the bank reported last week, from 50.5 in December.
The January figure was the first decline below the level of 50, which distinguishes expansion from contraction, since August.
Economists said that recent economic indicators have confirmed the trend of softening growth momentum that began in the fourth quarter.
Wang Tao, chief economist in China at UBS AG, forecast "slightly softer" growth in the first quarter, because of slower credit growth, rising funding costs for companies and outstanding policy uncertainties.
"Growth in the second quarter is expected to rebound as some policy uncertainty is reduced and new investment projects begin," she said.
Wang said the government was set to pursue a set of largely stable macroeconomic policies, with a slightly higher budget deficit and slightly tighter monetary and credit policies.
The government is likely to continue the expansion of value-added tax reform in the coming months, which may reduce pressure for some companies, especially small ones, the UBS economist said.
Zhu Haibin, chief economist in China at JPMorgan Chase & Co, said: "We are confident that, this time, the government is fully committed to rebalancing the economy in 2014", including shifting the growth model driven by investment to consumption-oriented one.
The service sector is expected to play a more important role than the traditional industrial sector, Zhu said.
"Nonetheless, reform is more likely to be gradual and implementation of the agenda will be carefully sequenced to manage the net impact on overall growth," said Zhu.