Nokia drives ahead with internet of vehicles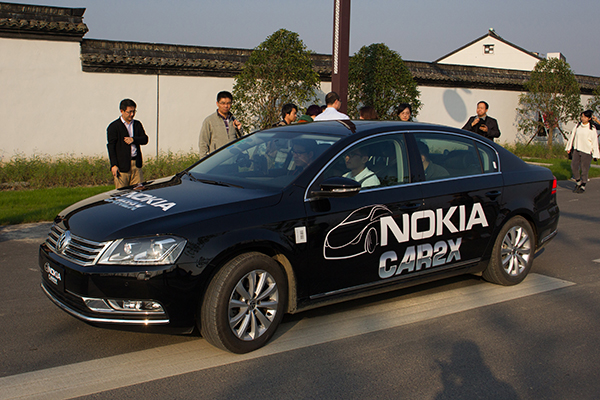 Nokia technicians test a car using 5G IoV technologies in Wuzhen, Zhejiang province, on Nov 9. [Photo/China Daily]
The dream of getting a helping hand when you are too tired to drive is now embodied in Wuzhen as technology giant Nokia has built a base station for the 5G internet of vehicles (IoV) in the town.
Starting from Nov 16, the opening date of World Internet Conference, a 5-kilometer 5G IoV test ride was provided in Wuzhen. A total of three cars will be used.
Two different situations were tested for this ride. One shows the car giving a warning and slowing down when another car up to 1,000 meters ahead is making an emergency stop. The other situation shows how the car can give the right instruction as to when to change the lane and when to stay in the lane in more complex conditions.
According to Li Kun, director of business development of internet of things at Nokia Greater China, the 5-km test route is the first of its kind in China. Prior to this, a similar ride was tested in Germany in November 2015.
By adopting MEC pre-5G technology, Nokia's 5G IoV solution Car-2-X can reduce the current one-second delay between the vehicle and mobile communication net to less than 20 milliseconds, "which equals one fifth of one blink", explained Li.
IoV technology based on the mobile communication net can connect vehicles and infrastructure on the roadside. By supporting a number of applications such as danger warnings or adaptive cruise control, the vision of the vehicle will be largely broadened. In this sense, real-time communication can enable the vehicle to take care of emergencies the driver has not noticed. It is crucial to improve the reliability of automatic driving and road safety.
"Statistics show that traffic accidents cost 1.3 million lives globally every year and injure another 50 million people. However, 90 percent of these accidents are due to human error. IoV technologies can improve the quality and security of automatic drive so that traffic accidents can be avoided and lives saved," said Li.
Last year, the Ministry of Industry and Information Technology and the government of Zhejiang province signed a framework agreement to start cooperation in smart vehicles and transportation based on the broadband mobile internet. With this agreement, Zhejiang became the first area in China to promote 5G IoV. Apart from Wuzhen, Yunqi, an area for startup and innovation businesses located in Hangzhou's Xihu district, which includes Alibaba's cloud computing unit Aliyun, has also started 5G IoV experiments.
According to statistics provided by global telecommunication association GSMA, 32 percent of vehicles in the United States were connected in 2015 while the number was 11 percent in Europe. As the country's leading telecommunication company China Unicom estimated, more than 200 million vehicles running on the roads in China will be connected by 2020.