Samsung buys speaker firm Harman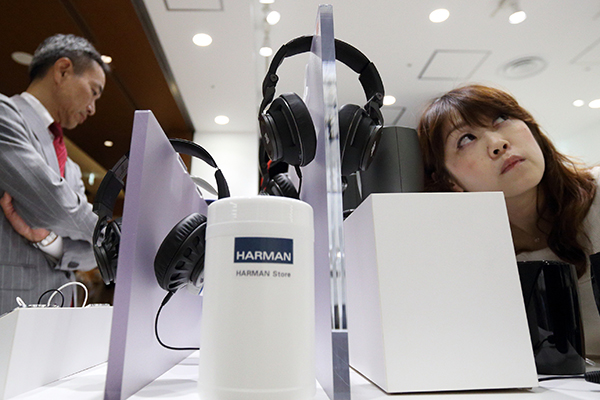 A customer tries a Harman International Industries Inc's JBL branded speaker at Harman store in Tokyo, Japan. [Photo/Agencies]
One of the first things Samsung Electronics Co President Young Sohn said when talking about the South Korean company's $8 billion deal to buy Harman International Industries Inc is that the electronics giant has no intention of building a car.
The emphasis was intentional. Samsung's target customers are carmakers who'd love to give their vehicles smartphone-like capabilities but are wary of surrendering unfettered access to their dashboards.
They have largely kept a distance from Google, which could mine driver data for its own uses, or Apple Inc, which until recently had designs on building its own car.
Samsung wants to marry its consumer electronics expertise and the fast 5G cellular network it is developing with Harman's presence in dashboards all over the world.
If it works, they can offer carmakers a lightning-quick connected system for infotainment, mapping, concierge services and autonomous driving-and all without the worry that the automakers would be helping a future competitor.
"This is not about building a car," Young said in an interview. Several automakers "came to us and asked us to help with technologies like 5G, or artificial intelligence or memory. We can harness technologies to provide a better experience to automakers."
Deals like Samsung's for Harman could be welcome by automakers, who want to control the revenue from connected car services and the customer data it generates as much as possible, said Jim Hines, a research director at Gartner.
Bloomberg