Samsung scion begins reign amid fiasco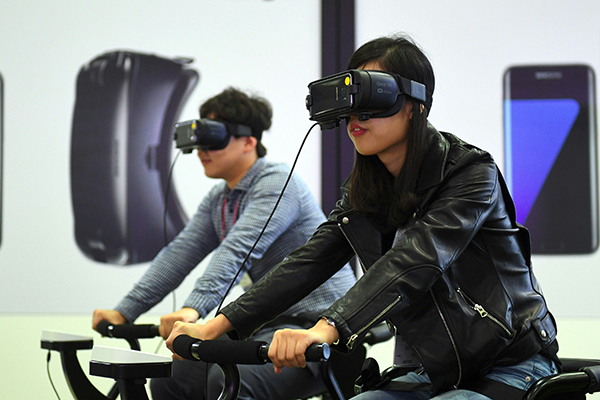 Visitors experience Samsung Electronics' Gear VR during the Korea Electronics Grand Fair at an exhibition hall in Seoul, Oct 27, 2016. [Photo/Agencies]
Lee Jae-yong, the crown prince of the founding family that controls Samsung Group, is getting expanded corporate power. Now comes the guessing game about what he'll do with it.
On Thursday, Lee officially joined the nine-person board at Samsung Electronics Co, whose botched roll out of the Galaxy Note 7 smartphone delivered a blow to a premier tech brand and cost the company billions of dollars in profit. The move gives the low-profile executive, also known as Jay Y., a big say over top management and strategic calls, including restructurings, mergers and asset sales.
His ascension comes on the same day that Samsung reported a sharp decline in profits, as the recall took its toll. Net income fell to 4.41 trillion won ($3.9 billion) in the third quarter. Shares in the company rose 0.4 percent at the close of trade in Seoul.
Lee, 48, is already vice-chairman of Samsung Electronics and has gained influence since his father, Lee Kun-hee, suffered a heart attack and was hospitalized in 2014. The founding family controls Samsung Group, whose tentacles extend into financial services, hotels, biopharmaceuticals and fashion, through a complex network of cross ownership. So in a way, Lee's elevation to the board of the flagship will be something akin to a coronation.
"We can now say that Lee's regime has officially begun," said Lee Chai-won, chief investment officer at Korea Value Asset Management Co. "I think a new era is coming." Lee believes Jay Y.'s enhanced influence will be an adrenaline shot for a company in crisis.
"The company will become more market-friendly," he said, predicting the new board member will "quicken its restructuring process."
Samsung Electronics has no shortage of challenges, urgent ones.
In addition to mopping up after the Galaxy Note 7 fiasco, the younger Lee faces a threat from activist hedge fund Elliott Management Corp that is pushing Samsung Electronics to simplify its ownership structure.
The New York-based fund, founded by stock picker Paul Singer, also wants the company to add independent directors and dish out a special $27 billion dividend to investors.
Bloomberg