Ericsson to fuel China's 5G take off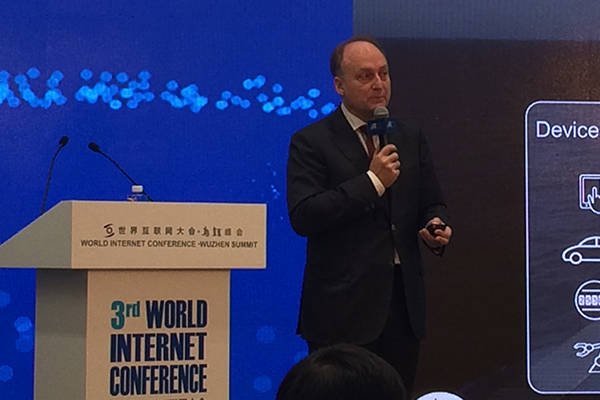 Magnus Ewerbring, vice-president and chief technology officer of Ericsson's Asia-Pacific Group Function Technology. [Photo/chinadaily.com.cn]
China will obtain the first echelon to embrace 5G commercial launch by 2020, said a senior executive of telecommunications giant Ericsson.
Magnus Ewerbring, vice-president and chief technology officer of Ericsson's Asia-Pacific Group Function Technology, told China Daily at the World Internet Conference, also known as the Wuzhen summit that "China, America, South Korea and Japan are likely be first four countries to launch massive commercial use of 5G service.
According to Ewerbring, the number of subscriptions connected with a mobile broadband link is predicted to be over 7 billion by 2021.
The company believes that by 2021, there will be 16 billion internet of things (IoT) connected-devices and 25 billion devices will carry 5G services.
He delivered a keynote speech titled "AI – 5G and Internet of Things (IoT) driving the future internet" during the "Mobile Internet Forum", one of the sub-forums of the event.
"To support the change into the connected society we will give insights in how the industrial internet will be supported with 5G and IoT," he said. "5G and the future internet will open up possibilities to embrace manufacturing, traffic control etc,. and drive an evolution of today's networks."
Statistics from Ericsson's latest Mobility Report show that 5G subscriptions will reach more than half a billion by 2022, and that North America will lead the way in this adoption.
Since the Sweden-headquartered telecommunications conglomerate has worked in China for more than three decades, the company was very familiar with the market and their local consumers, according to Ewerbring.
Chinese government has initiated the future industrial guidelines – "Made in China 2025". For Ericsson, Ewerbring believes that 5G will lead the implementations of industrial internet and "together with 5G and mobile internet technologies' improvements, the company is keen on being part of the community and share its contribution to fuel the Chinese market".
"There are some competitors for us that come from China and I respect them very well, they are qualified and reserve competitiveness. We've been learnt from each other and together we'll make the industry stronger," he added.
He shared two core-competiveness of the company that able to help it secure a certain market share around the globe: present in local markets and building research environment.
"We have set up R&D centers in Beijing, Shanghai, Nanjing and Chengdu and so forth and they can make sure that our products will satisfy local customers," said Ewerbring. "It will help us build knowledge base for better understanding the market and collect feedback from our users."
Ewerbring also attended last year's WIC held in December.
He said the one thing he noticed in this year's conference is that many people referring to what was said last year and many parties have been using the results to continue to work and involve in the internet sector. "I hope in a similar way that this year's conference can move forward in some way."
"We have a global internet that we can use it for e-commerce and sharing information and so on, So I think it's important that we have this kind of meetings where we can discuss things like how should internet involved, how should be progressing and how should decisions be made and so forth."