All Wuzhen's a stage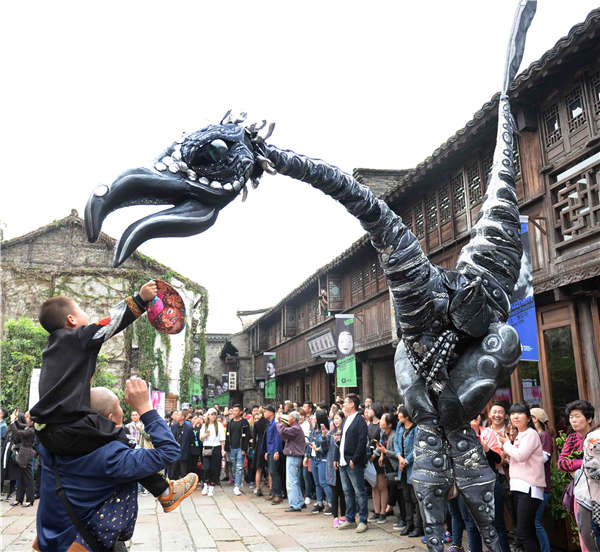 A parade of street performances draws the attention of a young visitor during the Wuzhen Theater Festival in October. Provided to China Daily
An annual festival with a scenic backdrop hooks China's young people on theater, Dominic Morgan reports.
A young woman is sprawled against a wooden doorway in Wuzhen's West Scenic Area, surrounded by beat-up old suitcases.
Looking artfully disheveled in a tilted wide-brimmed hat, she stares motionlessly at the ground as a crowd of teenagers rushes to her, cameras at the ready.
Is she a performer or just an ordinary festivalgoer who has failed to find a hotel room? No one is sure, but everyone excitedly snaps photos anyway.
Scenes like this are common at the Wuzhen Theater Festival, a bewildering Mad Hatter's tea party of an event set in a tiny water town in Zhejiang province that has become a word-of-mouth phenomenon in China.
Wuzhen's combination of beautiful scenery, international lineups and pop-up street performances immediately strikes a chord with an emerging generation of young Chinese urbanites, transforming the town almost overnight into one of China's cultural centers.
Nearly 500,000 people streamed into the West Scenic Area last month for the fourth annual festival. Compared to most Western theater events, this audience is astonishingly young.
More than 60 percent of attendees are under age 35, according to the festival's organizers, Culture Wuzhen Co. Most come from the first-tier cities of Beijing, Shanghai, Guangzhou and Shenzhen.