Forex regulator warns risks may rise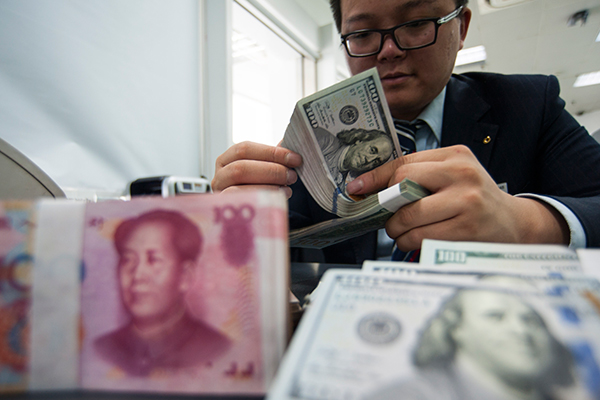 An employee at a bank counter in Nantong, Jiangsu province, counts renminbi and dollars. [Photo/China Daily]
China's top foreign exchange regulator warned on Wednesday that systemic risk will possibly rise in the foreign exchange market due to unexpected fluctuations from irrational trading, as headwinds may get fiercer along with the deepened opening of the financial sector.
As some developed economies gradually withdraw asset purchasing programs or quantitative easing policies, China's monetary authority should consider how to maintain a sound environment for trade and investment to prevent strikes from risk exposure, Lu Lei, deputy director of the State Administration of Foreign Exchange, said at a forum in Beijing.
He said the foreign exchange reserve will remain a crucial tool to prevent irrational fluctuations, and hinted that there is no lower limit to the amount that should be held by the monetary authority.
Due to a more stable yuan against the US dollar and a basket of major economies' currencies recently, the China's large capital outflows since the second half of 2015 turned into inflows and the foreign exchange reserve rebounded to $3.11 trillion by the end of last month from $2.998 trillion in January, according to the central bank.
Market concerns increased when the foreign exchange reserve dropped, as it was used to stabilize the currency's value, and passed the"psychological bottom line" of $3 trillion.
"There is no certain line," said Lu, as the most important function of the reserve is to prevent large fluctuations in cross-border capital flows.
The management of foreign exchange reserves should not only focus on keeping and increasing value, as an investment asset, but take advantage of the role in economic and financial stabilization, said Lu.
Huang Qifan, vice-chairman of the Economic and Finance Committee of the National People's Congress, the country's top legislature, called for foreign exchange reform earlier this month, claiming that the current management method was one of the reasons for the oversupply that led to excess liquidity and chaotic activities in the financial sector.
Regulatory policies in the foreign exchange market will focus more on the overall financial status instead of supervising certain single activity in the future, and it will be taken as part of the macro-prudential assessment regulation framework, said Lu.
"It will be more transparent and market-oriented, using price as the tool for flexible adjustment, while preventing policy discrimination," he said.
The macro-prudential policy will help to stabilize capital flows while avoiding mismatched demand and supply of funds under the government's administrative intervention, and it is significant for further opening the financial sector and to achieve a fully opened capital account, said Lu.