More Chinese companies go public in global IPO surge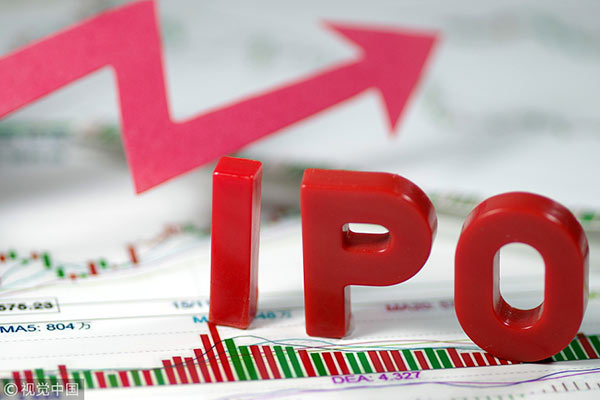 With Chinese companies flocking to go public, they make up one-fourth of the over 1,450 companies listed through Friday this year across the world, the biggest worldwide surge of initial public offerings in a decade, the Wall Street Journal reported Monday.
The newspaper cited data from Dealogic, a financial markets platform, showing the proportion of Chinese deals was the largest, compared with 10 percent in 2014. A total of 377 Chinese companies debuted on the Shanghai and Shenzhen stock exchanges so far this year, reaching the highest point since the platform started tracking the data in 1995.
The result echoes the earlier report by Xinmin Evening News that the number of IPO would be 352 as of the middle of October, a new high compared to 347 in 2010, which puts this year on track to launch the most IPOs.
Since the temporary freeze on IPOs following the stock market rout in 2015, China has sought to normalize IPOs by giving approvals at a faster pace to improve financing efficiency and direct more money into the economy.
While trade deals ramped up, the total funds raised in 2017 is not expected to exceed the historical high of 491.13 billion yuan ($74 billion) in 2010, given that medium and small-cap stocks account for the majority of the new issuance, Xinmin Evening News said, adding that the first three quarters will see 164.87 billion yuan in combined volume, doubling the previous year's figure.
The data also revealed that around two-thirds of the IPOs were in the Asia-Pacific region, surpassing the US to become the most popular location for IPOs.
The Wall Street Journal said that a pickup in Asian economies is powering more company expansions by publicly selling stock. However, IPOs dominated by smaller companies here also raised concerns because many of them are unprofitable and have unproven business models, the newspaper noted.
On the other side, some companies do not rush to go public. Ant Financial Services Group, the financial affiliate of e-commerce giant Alibaba Group Holding, said it has no IPO timetable or location decision, as the Financial Times reported in May, pointing out the company has no pressing need for capital.