IPO applications come under wider scrutiny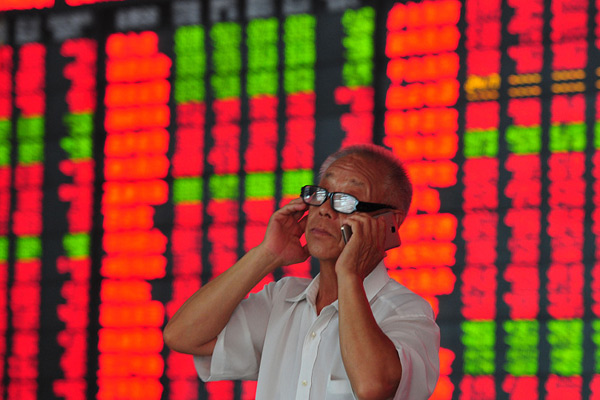 An investor discusses a market move on his smartphone from a brokerage in Fuyang, Anhui province, August 26, 2017. [[Photo by An Xin/For China Daily]

Regulatory oversight to ensure credibility of applicants on parameters besides profitability
Five out of six companies' applications to go public were rejected early this week, according to a circular by China Securities Regulatory Commission, sparking discussions about whether the assessment committee is getting "stricter".
Analysts said that since there are no changes to assessment standards for initial public offering applications, it would be too early to say that the latest committee for IPO approval, which started operation Oct 9 at the CSRC, is "stricter" than its previous peers.
Scrutinizing the details of IPO applications is good for investment conditions, because it shows that committee members are taking their responsibilities seriously, according to a research note from Cinda Securities.
"We can't say that the assessments are getting stricter simply because several applicants were rejected, as success rate is dynamic and is decided by many factors of the applicant companies, not the assessment team," said a note from Huatai Securities.
"The projects are rejected for various reasons. For enterprises which are thinking of (listing) in the future, it is better to learn from the lessons of the failed ones," said Li Hao, an analyst with Shanghai-based Hongying Capital.
Nearly half of the 37 companies that applied for approval to go public in the A-share market in the past four weeks have been unsuccessful, according to latest results of IPO application assessments by CSRC.
"Scrutinizing details in these applications ... and raising doubts can also be regarded as guidance for future applicants. Beyond profitability, a company's sustainability, core competence, and major business' perspective, industries' mega trends, details in financial records and disclosure transparency are also important to (a) successful IPO," Li said.
According to the CSRC circular, companies rejected in IPO applications were questioned over abnormal profit data, unreasonable proposals for uses of funds to be raised, unclear relations among actual controllers and income outlooks that contradict with fundamentals amid cyclical downturns.
Dong Dengxin, finance professor at Wuhan University of Science and Technology, said the success of initial public offering applications will increasingly depend on their authenticity.
The size of a company and its annual profit are no longer the only keys for deciding if a company is investible. Instead, regulators will look for prospects of sustainable growth reflected by reasonable and authentic data, Dong said.