Service industry leads China's GDP growth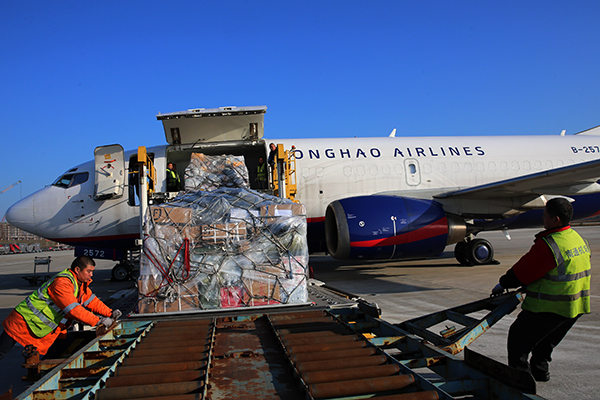 Ground staff load cargo at Nantong Airport, Jiangsu province. [Photo/for China Daily]
Consumption demand likely to help maintain labor market stability
Chinese companies in the service sector saw stronger profit growth in the first three quarters thanks to rising demand for services and steady price rises, data from the National Bureau of Statistics showed on Tuesday.
The companies saw their operating profit rise 31.4 percent year-on-year in the first three quarters, which was 8.6 percentage points higher than in the first eight months, according to the bureau.
The profit growth of the service sector was faster than that in the industrial sector, which saw 22.8 percent growth year-on-year.
Bureau spokeswoman Liu Aihua said the service sector was a "bright spot" for the Chinese economy when all other major economic indicators pointed to a slight contraction in October.
The rapid rise in demand for services has led to a steady price rise, which contributed to the "outstanding" performance of corporate profitability in the service sector, Liu said at a news conference in Beijing.
The service sector's proportion of China's GDP has been rising steadily, surpassing 50 percent in 2015, indicating an improved economic structure.
Qu Tianshi, an economist at ANZ Group, said the robust profit growth in the service sector reflected changing consumption trends in China.
"Consumption demand has been shifting gradually from goods to more services. This will also help maintain labor market stability during the period of economic transformation," Qu said.
An index tracking business activity in the service sector stood at 53.5 percent in October, according to the National Bureau of Statistics. A reading above 50 indicates expansion while a reading below that reflects contraction.
Sectors including hotels, retail, aviation logistics, delivery, telecommunications and information technology showed even faster expansion, with their business activity index exceeding 55 percent, data from the NBS showed.
Despite the slight contraction in economic activity in October with slower growth of industrial production and investment, economists said that the service sector will continue to be a major factor driving the country's economic growth as more policies are expected to be rolled out to support household consumption.
Li Xunlei, chief economist at Zhongtai Securities Co Ltd, said that, in order to unleash its consumption potential, China needs to further improve its social security network and social welfare including public education, elderly care and healthcare.
Reducing households' financial leverage in the property and financial sectors will also support consumption expenditure and the expansion of demand for services, Li added.