LinkedIn will reach out to more professionals for faster growth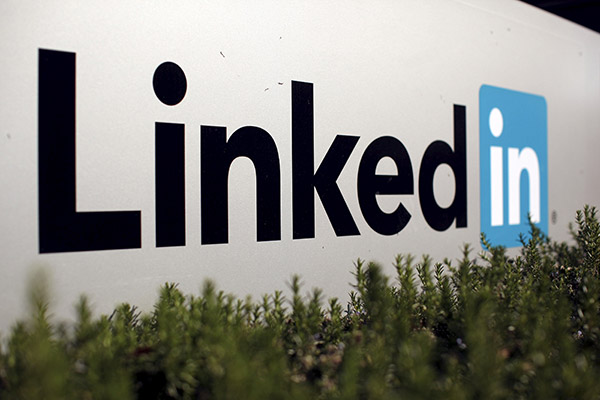 The logo for LinkedIn Corporation is shown in Mountain View, California, US. [Photo/Agencies] 
US networking site LinkedIn is looking to cater to the career advancement needs of individuals and corporate users in China and also form partnerships with mature ecosystems in the local market, a top executive said.
"We think about growth as accelerating the realization of our vision, which is to create economic opportunity for every member of the global workforce, rather than just moving metrics," said Aatif Awan, vice-president for growth at LinkedIn, during a visit to China.
"We don't just think about signing professionals onto LinkedIn, but making sure we understand who they are, what their needs are and connecting them to other professionals and our products. That helps them get more value out of LinkedIn," he said.
China is now the biggest growth driver for the company with 530 million individual members worldwide, and about one of its six new sign-ups everyday comes from China, Awan said.
"Last month the number of users on the Chinese mainland reached 36 million, eight times of what was recorded when we first entered China in 2014," he said.
China is definitely a different market from the US, but career advancement is also a similar requirement for Chinese professionals, Awan said.
"We enable professionals to build meaningful relationships on our platform and stay informed about what is happening in their industry in a way that is unique to their network by seeing what people in the industry are reading and exchanging information."
"Professionals can find jobs through LinkedIn and learn new skills to be better in their jobs," he said.
There is also localization and partnerships with large ecosystems where Chinese workers spend a lot of their time to better satisfy users' needs and spur further growth, he said.
"After noticing how fast hiring happens here, we are testing WeChat integration to facilitate the process so that recruiters can reach candidates very quickly and have conversations about job opportunities," he said.
Recently, the company has teamed up with technology firm Huawei.
Users of Huawei's new Mate 10 smartphones can see LinkedIn profile data in their address book, and when they get a call from someone, instead of seeing the phone number, they can see the LinkedIn data of the person.
Awan said LinkedIn can contribute effectively in helping Chinese companies bring international talent back to the country.
"Our product is like a digital map of the global economy. You can see where top-class professionals are located, what key skills transactions are happening and which cities are becoming skills magnets. Companies can use that to plan in a strategic way of what talent to go after and where to find them," he said.