Baidu, Ele.me deal consolidates online catering market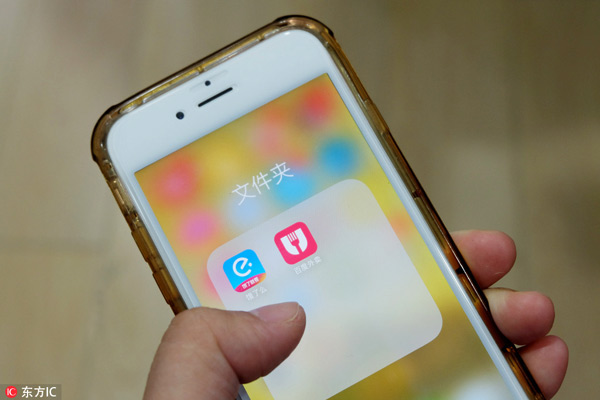 A mobile phone user looks at icons of Chinese meal delivery company Ele.me (left), and Chinese online food delivery company Baidu Waimai, the food delivery service of online search giant Baidu, on his smartphone in Shanghai, Aug 24, 2017. [Photo/IC]
SHANGHAI — The takeover of Baidu's food delivery unit by Ele.me, China's largest online catering company, will help consolidate the market, analysts said.
On Thursday, Ele.me announced that it will take over the food delivery business of Baidu, which operates under the Baidu Waimai brand.
Ele.me, backed by e-commerce giant Alibaba, has 260 million users in 2,000 cities in China. It delivers from 1.3 million restaurants and has three million scooter-riding delivery staff. Baidu Waimai has 100 million users and covers 300 cities.
Under the deal, Baidu Waimai will continue to operate under its own brand and management. It will also receive shares of Ele.me. Ele.me will provide support for users, finance, delivery and logistics, the company said.
Zhang Xuhao, CEO of Ele.me, said the deal is financed by Alibaba.
"Ele.me and Baidu Waimai will complement each other with their own advantages," said Zhang.
According to iiMedia, a market research firm, China's online catering business has maintained fast growth since 2011. In 2016, the market size was 166 billion yuan (about $24 billion), up 33 percent year-on-year. The market size is expected to reach 204 billion yuan (about $30 billion) this year.
Ele.me holds 41.7 percent of market share, while its biggest competitor, Meituan Waimai, comes in second with 41 percent. Baidu Waimai is in third place with 13.2 percent, according to multiple industry reports.
In June, Ele.me had 34 million active users, while Meituan had close to 30 million and Baidu Waimai had 17 million users.
The takeover deal will help reshuffle the market and make Ele.me the biggest online caterer in China, said Cao Lei, director of China E-Commerce Research Center.
"Baidu's food delivery business already lags way behind the leading competitors. Baidu's exit from O2O business will help it better focus on its main business of artificial intelligence, search engine and information," he said.
After the deal, many netizens worried that the consolidation will cut competition and reduce hongbao, or coupons, for users.
"When three becomes two, these online caterers will probably not send out free coupons to lure users, but the market will move on," said Zhang Yi, CEO of iiMedia.
More than 42 percent of food delivery service customers said their orders did not arrive on time, according to a poll conducted by iiMedia.
Online caterers need to cultivate their brands and use technology to ensure efficiency and put the quality of service first, said Chen Liteng, an e-commerce researcher.