The online food ordering and delivery offshoot of Alibaba Group Holding Ltd is likely to get an endorsement from retired NBA star Kobe Bryant as it tries to shed its image as a platform for questionable food vendors.
A mock-up advertisement of Bryant posing for the online-to-offline food application Ele.me has gone viral on China's social network. There is only one line of text in the advertisement - "You Hungry?"- a direct translation of Ele.me in English.
Shanghai-based Ele.me declined to comment when reached by China Daily on Tuesday. Kobe Inc, the company launched by Bryant in 2013 as his post-NBA business, was unavailable for comment on Tuesday.
However, an internal note of Ele.me, which has been leaked online, said that the company would officially announce Bryant's endorsement next Tuesday.
The app, which is the biggest player in online food ordering and delivery, was named and shamed by China's State broadcaster on a widely watched TV program in March after it was found to be allowing unqualified vendors to sell food through its online platform.
Yang Xu, an analyst with the Beijing-based internet consultancy Analysys International, said that the media spotlight had some negative impact on Ele.me's online orders in March.
"But it has since stepped up efforts in food safety control and its business has picked up since April after gaining the $1.25 billion investment from Alibaba and its finance arm," she said.
"With the endorsement from Bryant, Ele.me is likely to announce a new branding strategy to gear up its expansion," she said.
Ele.me's competitor Baidu Waimai has won endorsement from Liu Shishi, a popular actress, as the app targets China's white-collar users. "But Kobe is widely liked in China not just by a certain group of people," Yang added.
Zhang Qing, founder of Key-Solution sports consultancy, said that China is a very important market for Bryant to carry out his post-NBA business, thanks to the huge number of NBA fans in the country.
Contact the writers at mengjing@chinadaily.com.cn and sunxiaochen@chinadaily.com.cn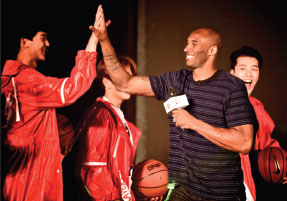 Retired NBA star Kobe Bryant at a news conference of a TV show in Beijing in June. Provided to China Daily