Stocks surge on strong H1 results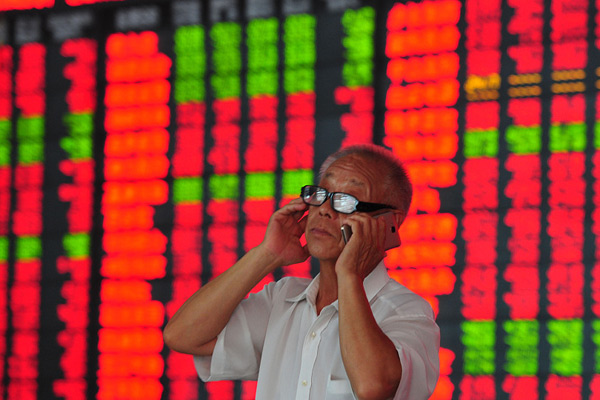 An investor discusses a market move on his smartphone from a brokerage in Fuyang, Anhui province, August 26, 2017. [[Photo by An Xin/For China Daily]
Chinese stocks surged to the highest level in nearly 20 months on Friday, led by gains in shares of financial and resources companies as strong corporate earnings boosted investor confidence.
The benchmark Shanghai Composite Index rallied 1.83 percent to close at 3331.52 points. The blue-chip CSI300 index jumped 1.6 percent to 3,795.75.
Shares in banking and mining companies led the rise, with sectoral sub-indexes gaining 3.09 percent and 3.61 percent respectively, according to data compiled by financial information provider Wind Info.
Friday's rise of the benchmark has broken the technical resistance level of 3,300 points as China's stabilizing economic growth and improved corporate earnings lifted market sentiment.
On Friday, Bank of Communications Co Ltd, the country's fifth-largest listed bank by assets, reported a 3.49 percent year-on-year rise in net profit in the first half of the year.
Its total assets expanded by 6.28 percent from the beginning of the year to 8.93 trillion yuan ($1.34 trillion).
Market leaders in a range of sectors, including China Vanke Co, China Life Insurance Co Ltd and Baoshan Iron & Steel Co Ltd, all published solid first-half results on Friday, adding to a growing list of firms that either met or exceeded market expectations.
Investor sentiment was also boosted by signs of accelerated ownership reforms at State-owned enterprises after China United Network Communications Group Co Ltd, the country's second-largest mobile carrier, announced a plan to sell a 35.2 percent stake to 14 companies for 78 billion yuan.
"China Unicom's mixed ownership reform has drawn much of the market's attention. The highlights include partnerships with leading internet companies, a diversified board of directors, and an employee stock ownership plan," said Gao Ting, head of China strategy at UBS Securities in a research note.
"The A-share names under the theme of SOE reform have been significantly boosted by market expectations of further reform progress."
On Friday, the China Securities Regulatory Commission said that the reform of China Unicom holds significance as a pilot case. The securities market regulator will continue to support SOE reforms that are in line with current rules and regulations.
The CSRC statement came after the share sale plan of China Unicom was seen to have violated existing securities rules that require a cap of 20 percent of existing shares on private placement.
The CSRC earlier said the case was treated as an exception, sparking market confusion on whether future SOE deals would also be exempted from the existing regulation.
Reuters contributed to this story.