Stronger financing to back China's green development path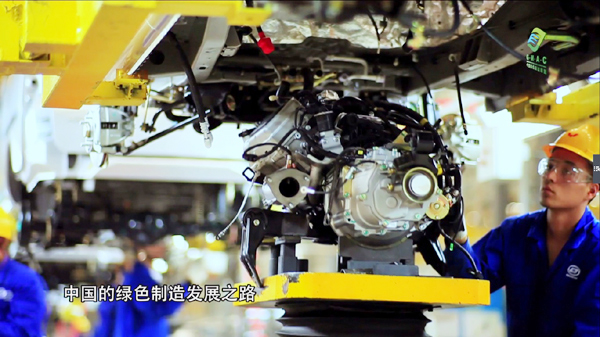 An image of a promotional video of China's green manufacturing development at the inauguration ceremony of the Green Manufacturing Association of China in Beijing, July 22, 2017. [Photo provided to chinadaily.com.cn]
BEIJING - China is aiming high in pursuing green development and boosting its energy-saving and environmental protection industries, with green financing one of the key areas to be tapped.
The country is expecting output of its environmental protection equipment manufacturing industry to reach 1 trillion yuan ($150 billion) by 2020.
The goal is set in the guidelines on the development of environmental protection equipment manufacturing industry released by the Ministry of Industry and Information Technology to solicit public opinions on Wednesday.
Describing the industry as an important technical foundation for environmental protection, the guidelines highlighted fiscal and financial support for the sector, including tax breaks as well as providing other financing instruments like green bonds and green credit.
The Chinese government has been pushing for the development of green finance in order to seek sustainable growth and honor its commitments on addressing climate change, and the market is still waiting to be explored.
There has been consensus ranging from the top decision-making level to related government departments to support the country's green financing and investment, Ma Jun, chief economist with the central bank's research bureau, said last year.
Detailed plans are being rolled out at local level after the central government set up pilot zones in June to explore replicable ways to boost green financing.
In Guian New District, Guizhou province, one of the country's five pilot zones, a brokerage firm for green securities, where companies will need to pass environmental inspections before they get listed or re-financing, is now in the planning.
Moutai Group, a renowned Chinese liquor maker in Guizhou, was one of the major players behind its establishment, according to the plan.
In Northwest China's Xinjiang Uygur Autonomous Region, local authorities are discussing a system to provide green financial products such as insurance for wind or solar power generation indexes and special credit for green mines.
Despite fast progress, Ji Xiaonan, former chairperson of the Board of Supervisors for Key Large-Sized State-Owned Enterprises, said there is still a huge funding gap in China's environmental sector.
He estimated that investment demand in China's green industries totals at least 2 trillion yuan annually, but only 15 percent of that is fulfilled by government finance and the rest of it needs to be covered by other funding sources.
According to credit rating agency Moody's, green bond issues worldwide hit a record high of $93.4 billion in 2016, rising 120 percent from a year earlier, bolstered by China-based issuers.
China accounted for nearly 40 percent of new green bonds last year, followed by the United States, France and Germany, said Moody's.
Ji said there should be more green insurance products, as industries related to noise, light and nuclear pollution have yet to be covered.
Meanwhile, as investment returns from green projects are usually slower to come than from other projects, the government needs to work on how to encourage private investment into the green financial sector, he said.
Experts have also warned of possible risks from the fast development of green finance, and said that a risk prevention mechanism must be established to ensure its healthy development.
A system should be set up to check the details of green projects from project registration to how the funds are spent, according to An Guojun, an associate researcher with the Chinese Academy of Social Sciences.
Professional third-party agencies should step in and play a role to ensure that green funding goes to green projects, she said.