Chile to attract Chinese investment in public transit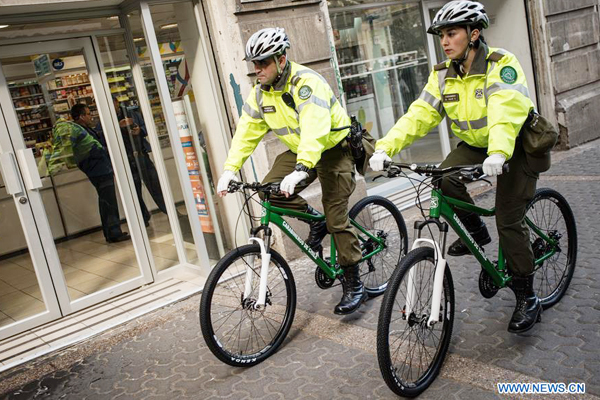 Chilean police officers patrol on bicycles donated by China in Santiago, capital of Chile on Aug 8, 2017. [Photo/Xinhua]
SANTIAGO - Chile aims to attract Chinese investment in its capital Santiago's public transit network, local media said on Thursday.
Chilean Transport Minister Paola Tapia is set to travel to China for "the Week of Chile in China," an investment promotion tour in China's several cities starting later this month, according to the daily La Tercera.
Tapia will travel to Beijing, Guangzhou, Shenzhen, Wuhan, Honk Kong and Chengdu, to meet with manufacturers of electric buses, such as BYD, Yutong and Yinlong.
In Beijing, Tapia will also meet with her Chinese counterpart Li Xiaopeng to discuss mass transit.
As part of a push to transition from fossil-fuel powered buses to electric vehicles, six new public transit suppliers in Santiago will be required by law to include at least 15 electric buses in their fleets by October 2018.
Chinese-made electric buses have already been unveiled in Santiago, and at least three units are to begin circulating soon as a pilot program gets underway.
"We are going to review in the field how the electric buses operate ... and the infrastructure related to their service," said Tapia.
BYD's representative in Chile, Tamara Berrios, said "Santiago has a mature transit system, with a technologically advanced level of emissions and regulations that are suitable for making the leap towards a superior technology."