China's debt 'still moderate', says senior IMF official
China's current debt has not surged to an outlandish level, but the country should press ahead with reforms as the economy retains its strong growth momentum, a senior representative with the International Monetary Fund said on Thursday.
"China's current public debt level, by our definition, which is a broad definition, is still moderate in an international context," said Alfred Schipke, the IMF's senior resident representative for China.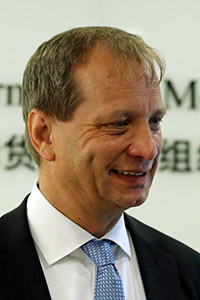 Alfred Schipke, IMF's senior resident representative for China. [Photo provided to China Daily]
The rapid rise in debt, rather than overall debt, has caused concerns, he said.
He said the key to ensuring more sustainable growth is to implement reforms and prevent debt from continuing to grow at the rapid pace it did in recent years.
Reform efforts include closing loss-making factories, as they may pose risks to the nation's banking system, according to Raphael Lam, the IMF's deputy resident representative for China.
Schipke said for the IMF the key is to implement reforms. In the short term this might have an adverse impact on growth. But China has some fiscal space to smooth the impact during the transition. This fiscal support should, for example, be aimed at strengthening the social safety net such as resettlement funds that might be needed in order to relocate laid-off workers from factories in the overcapacity sectors.
The remarks came after the IMF warned China over its swollen debt level in its annual review of China's economy released earlier this month.
The IMF raised its forecast for China's average annual economic growth for 2018-20 to 6.4 percent from 6 percent, but warned of piling up risks that may affect sustainable growth.
James Daniel, the IMF's mission chief for China, said during a teleconference earlier this month that efforts to implement reforms need to accelerate, and now, while growth is strong, is the time to do so.
China's GDP expanded at 6.9 percent in the first half of this year, beating market expectations.
Zhao Qingming, chief economist at the research institute of the China Financial Futures Exchange, said a higher debt level is expected in the future because the economy needs to be fueled to see continued growth.
"The key is to solve the structural challenges and tackle risky issues," he said.
The government has put solving debt issues high on its agenda and has implemented measures to resolve these.
China will strengthen efforts to reduce corporate leverage, especially at State-owned enterprises, a State Council executive meeting chaired by Premier Li Keqiang decided on Wednesday.
SOEs will face strict controls in investments from their main business portfolios and in programs that could increase their debt ratios, the meeting said.
Debt-for-equity swaps will be pushed forward based upon market principles and China will explore more ways to implement swap programs, the meeting decided.