Metal futures slide on new push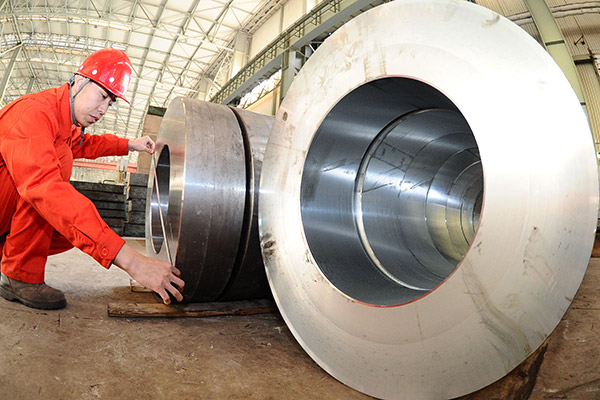 A technician at Dalian Special Steel Co Ltd, in Liaoning province, inspects the steel products at a workshop. [Liu Debin/for China Daily]
Iron ore and steel products futures in China saw a big slump on Wednesday, due to regulators' determination to curb rising prices, experts said.
"Facing the continued increase of metal futures these days in China, regulators introduced several regulations and policies to stabilize prices, so as to ensure the sound development of related sectors," said Wang Guoqing, research director at the Lange Steel Information Research Center.
Iron ore futures at the Shanghai Futures Exchange slid 3.82 percent to 578.5 yuan ($86.3) per metric ton on Wednesday, after peaking at 609.5 yuan on Tuesday, its strongest level since March 16.
Rebar steel, which reached 3,933 yuan on Tuesday, closed at 3,779 yuan per ton on Wednesday, down 3.96 percent.
Hot rolling plate declined 4.36 percent at 3,865 yuan per ton, compared with Tuesday's 4,047 yuan.
The Supreme People's Procuratorate of China released a notice on Tuesday night, requiring harsher punishment and stricter prevention of financial crimes and job-related crimes in the finance sector.
Intensifying the crackdown on securities and futures crimes, the notice stressed punishment on people who undermine the securities and futures markets' order by manipulating the market and trading with non-public information.
"The notice has large deterrent effect to the hot metal futures markets, reducing the market hype and cooling down their prices," Wang said.
In a statement on Aug 10, the China Iron and Steel Association said the steel products' price surge was not due to strong demand or inadequate supply, but speculative trading by some unscrupulous market players.
"The steel billets price in Tangshan has dropped 60 yuan per ton to 3,790 yuan last night due to a bad deal, triggering a sharp correction," said Wang Ning, an analyst at JLC Network Technology Co Ltd, based in Zibo, Shandong province.
The price fluctuation of steel billets in Tangshan, Hebei province is comparatively obvious and a valuable reference for the steel futures market.
Steel companies in Tangshan produce almost 60 percent of steel billets that can be sold to other firms.
"The market may return to a rational level after squeezing the hype bubble by related policies, and the metal prices may not see large volatility in the following months," Wang said.
CISA issued a report on Tuesday, stressing that fast rising steel prices will hurt the smooth operation of the steel industry.
With demand basically stable and producers able to quickly ramp up output, there should be no large gap in the market, the report said, predicting that the steel prices will not continue to see such dramatic fluctuations in the future.
The steel price index climbed to this year's peak of 106.49 at the end of July, lifted by higher iron ore costs, the report said.