Sinopec goes big on geothermal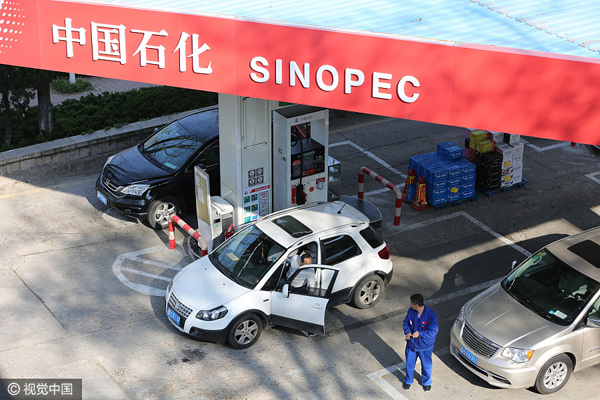 A gas station of Sinopec in Qingdao, East China's Shandong province, April 21, 2014. [Photo/VCG]
Refiner to create 20 smokeless cities by replacing coal with clean energy
State-owned China Petroleum & Chemical Corp, also known as Sinopec Corp, said it will further develop geothermal energy in Xiongxian county, Hebei province, as it seeks to make the region smokeless.
Sinopec Corp is also diversifying beyond oil and gas production.
The company said its geothermal energy heating capacity in Xiongxian has reached 4.5 million square meters by July.
It now plans to create 20 smokeless cities nationwide replacing coal with geothermal energy, covering 100 million sq m during the 13th Five-Year Plan (2016-20).
Geothermal energy is the heat from the Earth, which is considered sustainable and clean. Typically, such heat can be harnessed from hot water resources, shallow ground, underground hot rock and molten rock called magma.
"Geothermal energy has the capacity to partially replace coal-fired heat and reduce carbon footprint, especially in big cities," said Wang Zizong, deputy chief engineer of Sinopec Corp, Asia's largest refiner.
Xiongxian county is part of the Xiongan New Area, a zone located some 100 kilometers southwest of downtown Beijing.
The area was set up for coordinated development of the Beijing-Tianjin-Hebei region, which also spans Rongcheng and Anxin counties in Hebei province.
According to Sinopec, up to 60 percent of the Xiongxian county is rich in geothermal energy resources, with its reserves of hydro-geologic water amounting to 82.1 billion cubic meters.
The local groundwater temperature exceeds 55 C, equivalent to 6.63 billion metric tons of standard coal.
Sinopec has cooperated with Iceland in geothermal energy development long ago. It signed a framework agreement on the expansion of geothermal development and cooperation with Orka Energy Holding Ehf in 2012 and formed a joint venture with the company in 2006.
The JV, Sinopec Green Energy, moved its headquarters to Xiongan in April, seeking to provide over 16 million sq m of heating area generated by clean energy.
According to Li Yangzhe, deputy director of the National Energy Administration, is taking energy transformation place at a rapid pace globally, and renewable energy will play an increasingly significant role in shaping the global energy system.
"The Chinese government is devoted to promoting energy transformation in the country, and has set a goal to raise the percentage of nonfossil energy consumption in primary energy consumption to 15 percent by 2020, which will rise to 20 percent by 2030," Li said.
China is rich in geothermal energy resources, with the Tibet autonomous region, and Yunnan and Sichuan provinces considered the best among them. The country plans to boost geothermal energy generation in these areas.
In 2016, to promote clean energy development and improve the environment, China launched the 13th Five-Year Plan for geothermal energy, the first such plan in this field.
During the 2016-2020 period, China plans to increase installed capacity in the geothermal segment by 500 gigawatts, attracting 40 billion yuan ($5.8 billion) in investment. Meanwhile, China will also enlarge the geothermal heating area by 1.1 billion sq m.
By 2020, China will have 530 million watts of installed capacity in geothermal power as well as 1.6 billion sq m geothermal heating area, according to the country's energy planner.
Zhang Jiehui, deputy governor of Hebei province, said the geothermal resource in Hebei province equals 5 billion tons of standard coal, ranking second in the country.
It is estimated that the total energy consumption of Hebei province this year will reach 350 million tons.