Chinese lubricant demand drives Sinopec Singapore unit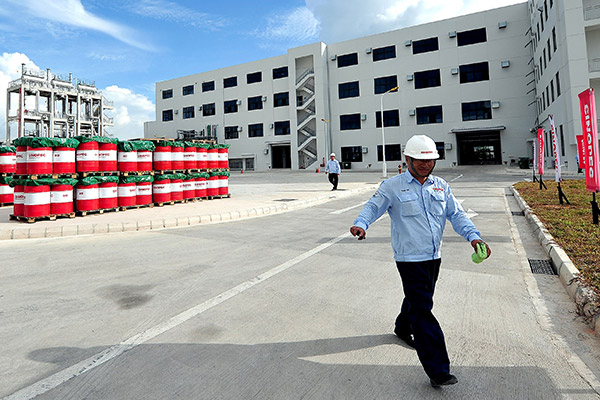 Workers at the Sinopec Lubricant (Singapore) Pte Ltd plant. The company's revenue reached 1.5 billion yuan ($217.5 million) at the end of 2016. [Photo/Xinhua]
China Petrochemical Corporation's first lubricant plant outside China - Sinopec Lubricant (Singapore) Pte Ltd - has continued its rapid growth and expansion by increasing business with Chinese companies overseas, according to one of the company's senior executives.
The company said that thanks to the Belt and Road Initiative, the plant - located at Tuas in the south western tip of Singapore - has been actively supplying China's aerospace, ocean shipping and heavy machinery businesses abroad, providing these sectors with lubricant and other chemicals support.
With a line of business that includes production of lubricating oils and greases, the unit's revenue reached 1.5 billion yuan ($217.5 million) at the end of 2016.
"Thanks to the Belt and Road Initiative, Chinese companies are embracing broader platforms for expansion and are entering a golden age of development," said Deputy General Manager Xia Peng.
Xia said his company had witnessed an expansion in business done with Chinese companies overseas, including Sany Heavy Industry Co Ltd and Xuzhou Construction Machinery Group.
"Increasingly Chinese companies are expanding their businesses abroad, which also provides us with more opportunities to expand our products," he said. "It's a win-win for all of us."
His group began supplying Xuzhou Construction Machinery in 10 key foreign markets, and now is planning to gradually expand this to 174 countries, including those in Central Asia and Africa.
The unit cooperated to supply specialist oils for Sany's Southeast Asia operations. The two parties will carry out branding, product promotions and customer maintenance in Singapore, Malaysia, Indonesia and Thailand.
German luxury automaker Mercedes-Benz AG recently chose Sinopec's Great Wall lubricant as its global lubricant supplier for the first time.
The company said that with its Great Wall lubricants, which hold technology certifications from more than 90 percent international major automakers - it had become the strategic partner of many world-class companies including Siemens AG and Burckhardt Compression AG.
The global oil market has long been monopolized by the likes of international oil majors Royal Dutch Shell Group, Exxon Mobil Corp, Chevron Corp, Castrol Ltd and Total SA.
In response, Sinopec signed long-term supply deals with domestic maritime companies in 2009, aiming to break the monopoly.
Sinopec Lubricant (Singapore) was founded in an attempt to take advantage of its location in an Asia-Pacific regional hub, enabling Sinopec to better serve the needs of its customers in Southeast Asia, Australia and New Zealand.
It was considered a major milestone for Sinopec and seen by the company as key to its global expansion plans considering its closeness to the Strait of Malacca, which is also why most key oil companies set up plants in Singapore.
The plant has installed production capacity of 100,000 metric tons of lubricant per year and produces high-end products to meet the increasing regional demand for high-grade lubricants and grease.
"The Singapore plant will further boost Sinopec's lubricant influence and international competitiveness," Xia said.
So far, Sinopec's lubricant business has expanded its distribution network to more than 50 countries and regions in Southeast Asia, Australia, Europe, South America and Africa.