Holiday season gives Moutai cheer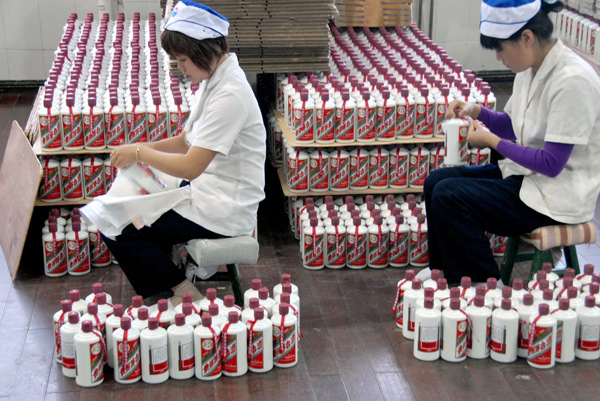 Kweichow Moutai Co workers package liquor at the company's production line in Maotai, Guizhou province. PROVIDED TO CHINA DAILY
Kweichow Moutai Co, the best-known high-end Chinese liquor, has witnessed rising demand and a supply shortage in the weeks leading up to the Mid-Autumn Lantern Festival and the National Day holiday.
With more people ordering Moutai for family dinners and banquets, retailers said they are experiencing a shortage, and expect a further jump in business with the arrival of the festival.
A 500ml bottle of Moutai's classic Feitian 53 percent liquor has been selling for as much as 1,299 yuan($195) on JD.com, one of China's leading online shopping platforms. Consumers need to click the "rush to purchase" button as the stock is tight, and each account can only purchase one bottle at this price.
Starting from Tuesday, Moutai plans to supply 4,500 tons of liquor to increase the inventory.
At some supermarkets and liquor stores, a 500 ml bottle of Moutai's classic Feitian 53 percent liquor costs as much as 1,500 yuan.
To control the market price, Moutai appointed 70 sales outlets in Beijing to provide products at 1,299 yuan per bottle, and the company will soon apply similar policies across China.
Meanwhile, its share price has been consistently advancing. The share price of Moutai has surged by nearly 50 percent this year. Moutai's market value exceeds 600 billion yuan, topping that of other global liquor producers.
On Monday, Moutai shares jumped by 3.26 percent to close at 499.83 yuan. Its share price is now the highest among listed Chinese companies.
At one point during trading on Monday, its share price reached a record 500.1 yuan, becoming the first Chinese stock to be traded at more than 500 yuan in the A-share market.
In addition, the performance of other leading Chinese liquor companies has been outstanding. On Monday, shares of Sichuan-based Wuliangye rose by 2.46 percent to close at 57.38 yuan, and shares of Sichuan-based LuzhouLaojiao Group edged up by 0.72 percent.
Shenwan Hongyuan Securities said Chinese liquor has been performing well and exceeding expectations in the second quarter. The price of Moutai is likely to increase in the second half of the year amid a bullish market.
In the next two to three years, Moutai's imbalance between supply and demand is expected to level off, and its price has the potential to continue to rise, it said.
BOC International said it will maintain a buy rating for Moutai shares. It forecasts that the share price of Moutai next year is expected to reach 600 yuan, higher than its earlier prediction of 550 yuan.