Chinese players eye breakthrough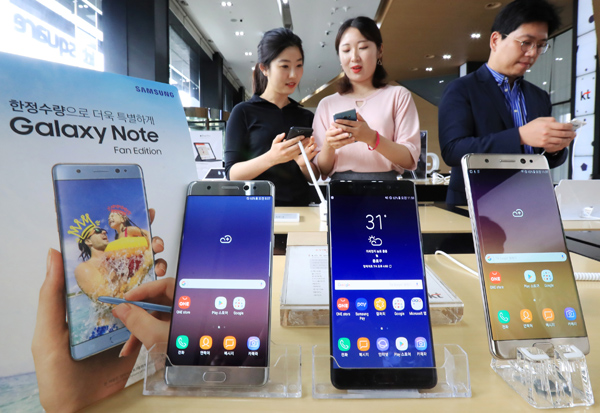 Customers try out Samsung's new Galaxy Note FE (Fan Edition) models at a mobile phone shop in KT Square, Seoul, South Korea. PROVIDED TO CHINA DAILY
Manufacturers step up efforts to smash South Korea's global AMOLED display screen monopoly
They are flexible, flashy and lightning fast. We also stare at them for hours every day.
Smartphones have transformed our culture and pliable display panels are transforming smartphones.
In a move to break South Korea's stranglehold in AMOLED, or active matrix/organic light-emitting diode technology, Chinese manufacturers are investing heavily in this cutting-edge process.
Tech companies making tablets, wearable gadgets and, of course, high-end smartphones, are increasingly turning to AMOLED, as it is physically flexible compared to traditional liquid crystal display, or LCD, panels.
"The global AMOLED display market is dominated by South Korean companies," a report released by Digitimes, a media and consultancy company, stated.
"Samsung Electronics Co Ltd is set to supply up to 80 million smartphone panels for the iPhone 8 this year, which will be based on AMOLED technology," it added.
Still, BOE Technology Group Co Ltd is muscling into the market by challenging the dominance of South Korean companies after investing heavily in the sector.
The Beijing-based supplier of semiconductor display products now has three AMOLED production lines in Ordos in the Inner Mongolia autonomous region, and in Chengdu and Mianyang, both in Sichuan province.
"We have been paying attention to research and development in flexible small-and medium-sized display panels for high-end mobile phones and wearable devices," said Zhang Yu, vice-president of BOE.
The company invested 46.5 billion yuan ($6.9 billion) on a sixth generation AMOLED production line, which was rolled out in May, at its Chengdu factory. It can turn out 48,000 glass substrate panels per month.
BOE expects to ship about 90 million AMOLED display screens per year, while Mianyang's new line is slated to start production by 2019.
Founded in 1993, the group is also understood to be in talks with Apple Inc to supply next-generation display screens for iPhones by 2018 or later, according to Bloomberg, the media company.
At least that makes sense as market research firm IHS Markit has forecasted that BOE will become the world's largest supplier for AMOLED display panels in 2019.
"AMOLED technology is the future trend for smartphone panels," Vice-President Zhang said. "At the moment, technological upgrades of display panels on smartphones concentrate on appearance, function and image quality," Zhang added.
"The flexible AMOLED display brings more possibilities to a phone's appearance."
Samsung is the main player in AMOLED technology with a 90 percent market share. AMOLED panels were even rolled out for its Galaxy series smartphones.
But Chinese mobile manufacturers, such as Huawei Technologies Co Ltd and Xiaomi Corp, have incorporated the technology into their flagship high-end, curved screen devices.
"Production capacity of AMOLED will continue to increase in the next few years with the establishment of new production lines in China," Zhang said, adding that South Korean companies will eventually lose their grip on the market.
Statistics released by Sigmaintell Consulting Co Ltd showed that about 23 percent of global smartphones had AMOLED display panels last year.
The Beijing-based research company expects that figure to reach 64 percent in 2021.
"Last year, global shipments increased by 40 percent compared with the previous year," Sigmaintell reported.
Apart from BOE, Shenzhen China Star Optoelectronics Technology Co Ltd, or CSOT, has started work on a sixth generation LTPS-AMOLED display panel production line in Wuhan, Hubei province.
"It will produce small-and medium-sized display panels with high-resolution, flexible and foldable functions for top-of-the-range smartphones," the company stated.
The CSOT production line will cost 35 billion yuan and will be operational by the second quarter of 2019.
Up to 45,000 modules will be manufactured each month by 2020 and 1.16 million square meters of AMOLED smartphone panels produced annually.
"There is a huge potential for growth in flexible and foldable display units, but supply will fail to meet demand in the next few years," said Li Dongsheng, chairman and chief executive officer of TCL Corp, the parent company of CSOT.
Figures released from industry consultancy CINNO Research showed that shipments of flexible AMOLED smartphone panels reached 55 million units last year.
By the end of 2017, that number is expected to rise to 160 million units with annual compounded growth of 88.2 percent up to 2020.
Data consultancy Digitimes expects Chinese manufacturers to eat into Samsung's market share by 2019 as they increase investment and production in the sector.
"The demand for AMOLED panels will witness rapid growth," said Li Yaqin, vice-president of Sigmaintell Consulting.
"Apart from smartphones and tablets, it also has a broad application in wearables, virtual reality or augmented reality devices, and other emerging display areas," Li added.