China's first 6th -generation AMOLED display screen goes into production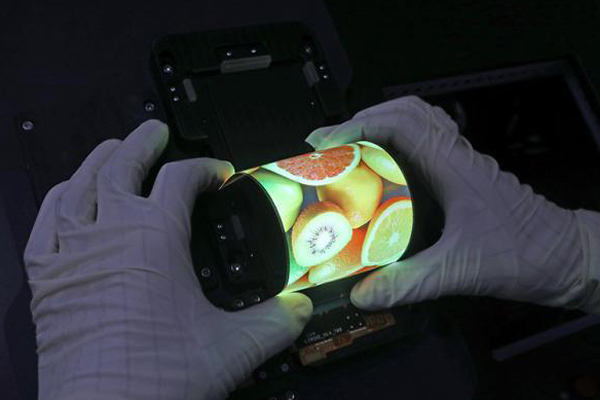 The 6th-generation flexible AMOLED display screen made by domestic leading screen maker BOE Technology. [Photo/www.cnr.cn]
China's first 6th-generation flexible AMOLED display screen production line, built by domestic leading screen maker BOE Technology, was put into operation in Chengdu, Sichuan province, in May, CNR reported.
AMOLED displays, physically flexible with a fast response, high contrast and wide visual angles, are increasingly gaining applications in consumer electronics such as OLED TVs, tablets, smart wearable devices and especially smartphones.
BOE's production line, with an investment of 46.5 billion yuan ($6.75 billion), applies the world's most advanced evaporation technique, the first of its kind in China.
This production line, having a designed capacity of 48,000 glass substrates (1850mm by 1500mm) per month, is expected to ship at least 90 million high-end AMOLED display screens per year and realize an annual output value exceeding 30 billion yuan.
Currently, the global AMOLED display market is nearly dominated by South Korean companies.
Samsung Electronics's share of the business has topped more than 90 percent, with a 5.5-generation AMOLED production line that can produce 8,000 substrates per month and a 6th-generation AMOLED production line having a capacity of 15,000 substrates per month.
In addition, LG Display has nearly 8 percent of the market. Most of its small to medium-sized AMOLED displays are made in its 4.5-generation production line, which has a capacity of 14,000 substrates per month.
According to consultancy company Sigmaintell, the flexible AMOLED is expected to witness exponential growth rate in 2017 and 2018 and its proportion in the AMOLED capacity will reach 65 percent by 2020, xkb.com.cn reported.
BOE'S smartphone LCD, tablet LCD and laptop LCD shipments topped the global market in this year's first quarter. Besides the production line in Chengdu, it will start building another 6th-generation AMOLED production line in Mianyang, Sichuan province, and achieve mass production by 2020.
China's State Council announced further measures to support "Made in China 2025", a plan to transform China from a manufacturing giant into a world manufacturing power, on Wednesday, according to Xinhua.
Key technologies such as high-end and smart equipment will be further developed.
Domestic screen makers such as Tianma Micro-electronics and Shenzhen China Star Optoelectronics Technology are also enhancing their presence in the OLED industry.