Samsung steps up moves into the home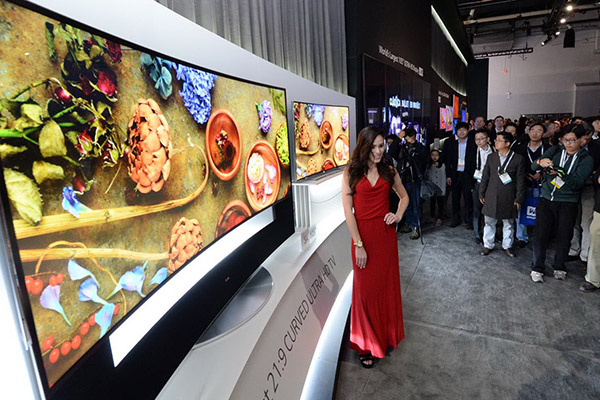 Samsung Electronics Co Ltd displays its TVs at the CES show in Las Vegas, Nevada. [Photo provided to China Daily]
Samsung Electronics Co Ltd is speeding up its layout into the home appliances sector in China-ranging from televisions, refrigerators, washing machines, air purifiers and robot vacuum cleaners-as it continues its efforts to put behind it the global recall of its flagship Galaxy Note 7 smartphone last year, triggered by reports of explosions involving the product.
"It is the 25th year since Samsung entered the Chinese market," the president of Samsung Electronics China, Bae Kyung-tae, told the Samsung Forum 2017 in Shanghai on Thursday.
"We are accelerating localization in research, factories and design to offer products that cater to the demand of Chinese customers," he said.
Samsung said it always regarded China as one of its most important markets in the world, and invested long-term resources and advanced technologies in the mainland.
The South Korean consumer electronics giant put emphasis at the forum on its QLED (quantum dot light emitting diodes) TV, considered as a next generation display technology after OLED displays given its enhanced picture quality.
Liu Junguang, vice-president of Samsung Electronics 's TV business in China, said sales of its curved-screen TV in China witnessed a growth of 87 percent year-on-year in 2016, while QLED sales increased by 91 percent in 2016 compared with previous year.
Samsung unveiled a new 75-inch QLED TV model at the Consumer Electronics Show in Las Vegas in January. Kim Hyun-suk, president of the visual display business at Samsung Electronics, said at the show this year would mark a major paradigm shift in the visual display industry, ushering in the era of QLED.
In the TV content field, the company is in partnership with Mango TV, the Hunan-based online video streaming platform and iQiyi.com Inc, to provide plenty of video content which includes TV series, films and variety shows.