Samsung plans share buyback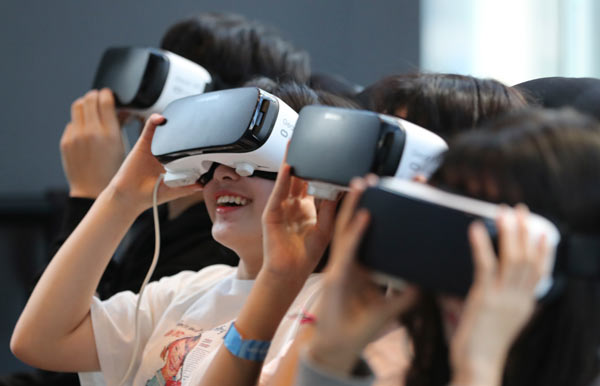 Visitors try out Samsung Electronics Co's VR equipment at its showroom in Seoul, South Korea. [Photo/Agencies]
Samsung Electronics Co's profit more than doubled in the last quarter of 2016 on robust semiconductor sales and a recovery in its mobile business, giving it enough stamina to buy back 9.3 trillion won ($8 billion) of its own shares.
Net income rose to 6.92 trillion won in the December quarter, largely buoyed by rising prices for memory chips and TV screens, the company said in a statement on Tuesday.
Growth in demand for smartphone displays coupled with a weaker Korean won also lifted its component businesses.
The repurchased shares, part of a shareholder return program unveiled in November, will be canceled, the company said.
The company's reputation, already tarnished by the cessation of its fire-prone Galaxy Note 7 last year, took another hit when prosecutors began a probe into Samsung's involvement in an influence-peddling scandal that's led to the impeachment of the South Korean president Park Geun-hye. The special prosecutor is proceeding with an investigation, even after a court rejected a request to arrest for Vice-Chairman Jay Y. Lee on alleged bribery and embezzlement charges.
The fourth-quarter result compares with the 7 trillion won average projection of six analysts surveyed by Bloomberg. Operating profit in the period was 9.22 trillion won on sales of 53.3 trillion won.