Exports, upgrading power up expansion in first half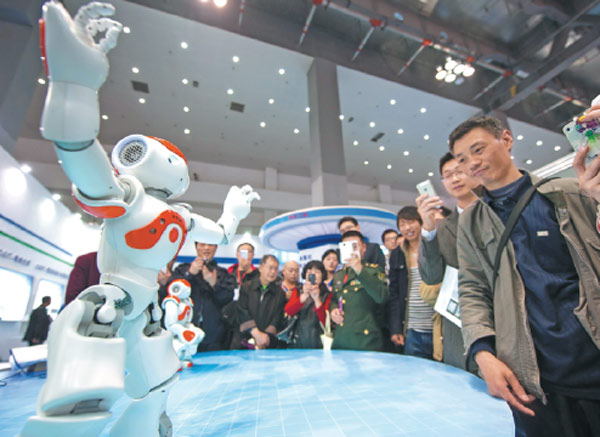 An AI robot performs a dance routine at a high-tech expo held in Chongqing. [Photo/Xinhua]
Export-oriented provinces and municipalities sustained high-speed growth in the first half, while regions relying on smokestack industries, though still lagging behind, have gradually gathered pace as economic structures improved.
Chongqing registered 10.5 percent year-on-year growth in the first six months, top among 25 of the 31 provinces, autonomous regions and municipalities to have released official economic data as of Wednesday.
The southwestern metropolis' growth was 3.6 percentage points higher than the nation's overall figure of 6.9 percent for the first half of this year.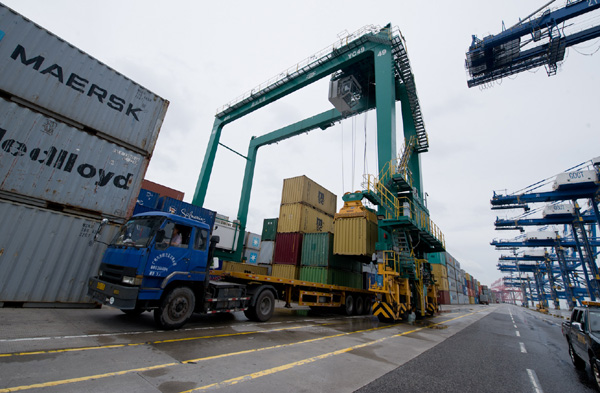 Containers being loaded at the Nansha Port in Guangzhou, Guangdong province. [Photo/Xinhua]
In terms of economic output, Guangdong province ranked top with a total of 4.2 trillion yuan ($617 billion) in gross domestic output in the first half.
These two regions are in the driving seat thanks to their diverse business structures which rely little on traditional industries, said Gao Huiqing, head of the development research department of the State Information Center.
A recovery in global demand has also helped the two export-oriented regions to enjoy sustained rapid growth, he said.
Michael Enright, an economics professor at the University of Hong Kong, said Chongqing's high-speed growth is related to central government's support such as the Belt and the Road Initiative and policies attracting foreign investors.
"Foreign investment helps Chongqing stand out among other inland cities," said Enright, citing the example of how it became the largest laptop manufacturing base in Asia in only around 10 years, as a large amount of foreign investment has poured in.
He said he expected that Chongqing and other cities with free trade zones, such as Shanghai and Tianjin, will continue to witness sustained growth, because the government will boost the domestic economy through further opening up and attracting foreign investment.
In contrast, regions which relied on traditional industries still lagged behind.
Northeastern Liaoning province only witnessed 2.1 percent year-on-year growth in the first half, while other old industrial bases, such as Heilongjiang province and the Inner Mongolia autonomous region, were among the six provinces and regions that have yet to release data.
Li Luoli, deputy head of the China Development Institute, a Shenzhen-based think tank, said these areas need to speed up the pace of finding new growth engines.
"The toughest time of economic transition may have passed, but there are many challenges that have yet to be resolved," he said, referring to issues such as the relocation of laid-off workers.
He said it would take a considerable period to see a new generation of industries takes shape.
"Some major coal and steel producers have achieved progress in economic transition," said Zhao Chenxin, head of the economic operation bureau of the National Development and Reform Commission, citing the example of a company located in Shanxi province, China's major coal producer.
The earnings of Shanxi Yangmei Group improved as it developed new production technology and expanded business such as coal transportation and storage, he said.
Shanxi province witnessed better-than-expected growth in the first six months with 6.9 percent year-on-year growth, according to Zhang Xiaodong, deputy head of the province's statistics bureau.