Make food imports, exports more secure, reform meeting says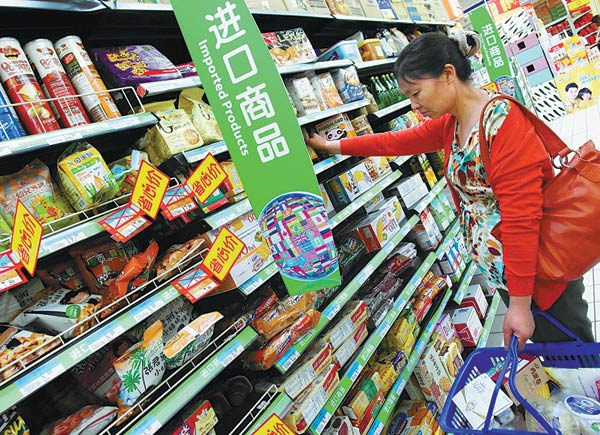 A customer selects imported biscuits, cookies and crackers at a supermarket in Yichang, Hubei province. [Photo provided to China Daily]
China should perfect its systems for safety risk alerts, quick response and supervision of commodities being imported and exported, a meeting chaired by President Xi Jinping determined on Wednesday.
The country should comprehensively improve monitoring, evaluation, alerts and handling of safety risks to uphold the rights and interests of consumers, the 37th meeting of the Central Leading Group for Deepening Overall Reform said in an official release.
At the meeting, Xi, also head of the leading group, urged government departments across the country to ensure progress in the ongoing reforms.
The meeting highlighted the safety of traded commodities at a time China is becoming a major buyer of global foods. Food imports have achieved an annual average growth of 2.6 percent in the past five years.
China inspected and quarantined $46.6 billion worth of imported food last year, according to a report by the General Administration of Quality Supervision, Inspection and Quarantine released this month.
The public interest should be given top priority, the meeting on Wednesday determined. The bottom line should be championed and the focus should be on preventing risks.
Also, the country should reform and improve its systems for evaluating and approving medical equipment and should reinvigorate the pharmaceutical industry, the meeting said.
Effort should be made to reform the management of clinical tests, and accelerate the evaluation and approval process for entry of new items into the market, it added.
The country should reinforce the enterprises' capabilities of innovation and research and development, as well as speed up the process of bringing new and outstanding medicines to the market to meet urgent clinical needs, the meeting said.
Improving cultural and people-to-people exchanges between China and the outside world was also discussed at the meeting.
China should improve its planning of such exchanges, innovate its high-level cultural exchange procedures and reform the contents, forms and operations of such exchanges, the meeting determined.
The ideas on boosting cultural and people-to-people exchanges should be realized in various areas of China's interactions with the world to highlight the Chinese characteristics and the Chinese styles, the meeting said.