Record revenue, profit decrease make it a mixed bag for Alibaba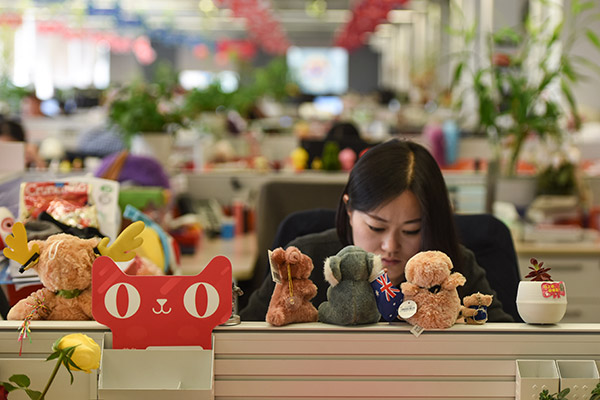 An employee of Alibaba Group communicates with an overseas client via internet at the company's headquarters in Hangzhou, capital of Zhejiang province. [Photo/Xinhua]
Despite a fall in market share, e-commerce continued to boost online behemoth Alibaba Group Holding Ltd's 2016-17 revenue, which hit an all-time high of 158.3 billion yuan ($23 billion), up 56 percent year-on-year, in the year to March 31.
But net profit plummeted 42 percent year-on-year to 41.2 billion yuan, according to the company's annual report published on Thursday.
E-commerce accounted for 85 percent of revenue, down from 91 percent a year earlier.
Alibaba downplayed the profit drop, saying net income in the last quarter of its fiscal year was good and it has been a while since it invested in emerging businesses.
It also cited tax increases in some unspecified investment.
Analysts said Alibaba's profit may have dropped due to the group's diversification that required investments in new business segments like media, entertainment and cloud computing.
They also said the recast of Alibaba's business portfolio will continue to pressure earnings in the short term.
Investors appears to have shrugged off the earnings numbers as Alibaba's shares ended 0.46 percent up at $121.27 in New York on Thursday.
A lower-than-expected earnings per share, which stood at $4.35, is because "Alibaba has done a lot of acquisitions this past year ... and is spending a lot to drive growth in video and entertainment", said Ray Zhao, an analyst at brokerage Guotai Junan Securities.
While cloud services and entertainment are enjoying triple-digit growth, they both incurred losses due to slashed prices and big-ticket purchases to snatch market share from the likes of Amazon.com Inc, the largest public cloud provider, and Tencent Holdings Ltd for licensed content.
In October, Alibaba Pictures, an entertainment affiliate, picked up a minority shareholding in Steven Spielberg's Amblin Partners, a film-production company that includes DreamWorks Studios.
"Discount offers are necessary to expand Alibaba's cloud market share ... It also needs further spending to fill out its original content offerings," Ella Ji, an analyst at China Renaissance Securities US Inc, wrote in a research note in April.
The strength of its e-commerce business is helping Alibaba weather losses in those nascent divisions, analysts said.
Core commerce revenue, which includes retail and wholesale businesses at home and abroad, jumped 45 percent to 134 billion yuan. As a business unit, it delivered a profit of 83.1 billion yuan.
According to data from Bank of China International, Lazada Group SA, which Alibaba purchased last year, is leading in market share in six major countries in Southeast Asia, including Malaysia, Indonesia and the Philippines.
Elsewhere, its portal AliExpress is projected to enjoy a high double-digit growth in the coming year.
Moving beyond traditional realms has become necessary for the e-commerce powerhouse. At home, the growth in the number of annual active online buyers slowed to 7 percent to 454 million people, down from a roughly 20 percent surge in the previous fiscal year.
The slowdown signals a spike in the average purchase value per customer, and indicates stiffer competition in a near saturated domestic online shopping arena.
Alibaba is very close to reaching its ceiling, said Lu Zhenwang, chief executive officer of Wanqing Consultancy in Shanghai.