China industrial output expands 6.5% in April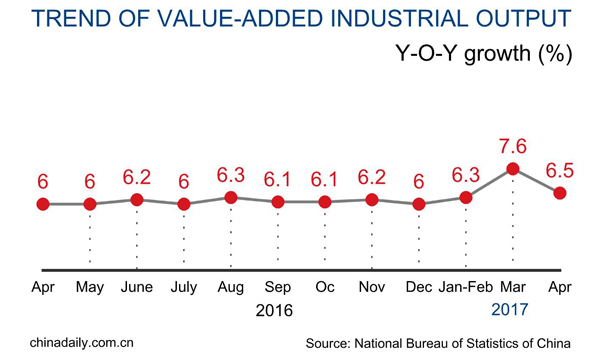 BEIJING - China's value-added industrial output, an important economic indicator, expanded 6.5 percent year-on-year in April, 0.5 percentage points higher than the same month of last year, official data showed Monday.
In March, industrial production expanded 7.6 percent year-on-year, according to the National Bureau of Statistics (NBS).
The NBS attributed the monthly slowdown to the International Labor Day holiday-shortened working days in April.
Industrial production expanded 6.7 percent year-on-year for the first four months, the data showed.
Industrial output, officially called industrial value added, is used to measure the activity of designated large enterprises with annual turnover of at least 20 million yuan ($2.9 million).
Ownership analysis showed that industrial output of state-holding enterprises was up 5.6 percent in April, while output of share-holding enterprises grew 6.9 percent. Meanwhile, industrial output of enterprises funded by overseas investors increased 5.5 percent.
Manufacturing output grew 6.9 percent in April. Mining output growth dropped 0.4 percent year on year.
"The economy continued to stabilize and positive factors were increasing. But both domestic and international environment is still complicated and structural contradictions have not been fundamentally eased," said NBS spokesperson Xing Zhihong at a press conference.
Industrial enterprises above the designated size reaped profits of 1.7 trillion yuan in the first three months, representing an increase of 28.3 percent year on year.
The industrial output figures were released by the NBS along with a slew of other major economic indicators in April.
The keynote of China's macroeconomic regulations will be risk control and restructuring in the coming months and major macro data for April points in that direction, analysts said.