Belt and Road Initiative to boost China-Egypt trade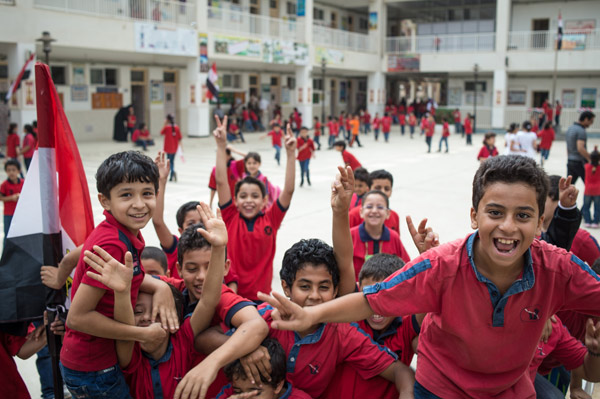 Students at a playground of a school, built by the Chinese government, in Shibin al Kawm, Al Minufiyah, Egypt. China is the biggest investor in the development of Egypt's Suez Canal Corridor. XINHUA
Middle Eastern nation eyes the revival of its economic fortune
CAIRO - The Belt and Road Initiative will "open up huge opportunities" for deals between Egypt and China in terms of mutual trade and investment, a leading researcher and authority at a Cairo-based institute said.
"The philosophy of the initiative is based on the concept of development as well as trade," said Mohamed Fayez Farahat, head of the Asian Studies program at the state-run Ahram Center for Political and Strategic Studies.
Proposed by Chinese President Xi Jinping in 2013, the Belt and Road Initiative aims at reviving ancient land and sea trade routes that link China with many countries in Asia, African and Europe via trade and infrastructure networks.
"The initiative by nature provides support for development process in Egypt because the maritime path of the Belt and Road passes through the Suez Canal," said Farahat who is scheduled to attend the Belt and Road Forum for International Cooperation in Beijing on May 14 and 15.
Egypt has recently adopted reform policies and austerity measures, taking out loans to revive its economy that has been ailing due to disruptions caused by two political uprisings and the ouster of two presidents, which caused investors and tourists to leave.
"The Belt and Road Initiative depends on huge financing capabilities and institutions that stand behind it and Egypt could benefit by getting support and loans for carrying out developmental projects with better and easier conditions, unlike the difficult system run by Western financial institutions," Farahat added.
The diversity and the richness of the initiative is seen covering coordinating policies, developing infrastructure and integrating financial cooperation between partners, which would create several fields of cooperation with Egypt, he explained.
Farahat said the logistics, ports and infrastructure of the developmental projects could constitute "a breakthrough of cooperation" between the two nations.
Despite the problems facing globalization in recent years, the Asian affairs researcher forecast that China would witness "massive transitions".
"China, which represents a successful model in development based on industry, is set to pay more attention to the logistics sector to push economic development in the region, including Egypt," he said.
Egypt's parliament on Sunday passed a long-awaited investment law that aims to create incentives the country needs to bring back investors after years of turmoil.
The new law is expected to boost much-needed investments by cutting bureaucracy, especially for starting new logistics and ports projects around the Suez Canal.
China is the biggest investor in the development of Egypt's Suez Canal Corridor which emerged in 1998. The Suez Canal Economic Zone, covering a total area of 461 sq km and comprising four sections and six ports, is seen as facilitating the presence of foreign investors.
"I expect China will contribute in a major way to increased development in Egypt, whose peace and stability provides a foundation for the Middle East," Farahat said, adding that by supporting Egypt, China would secure mega infrastructure projects passing through the Belt and Road Initiative's path.
He added that as a member of the Asian Infrastructure Investment Bank, Egypt could also benefit from funding its infrastructure projects with easier conditions.
Farahat, who is expected to deliver a speech during the Belt and Road Forum for International Cooperation on the challenges that would face the implementation of the initiative, said he saw "large scope" for the initiative's success.
"The economies along the Belt and Road path should work on marketing the initiative as a project that the people believe in, which is the challenge now."
He pointed out some factors behind its success included China enjoying a high level of credibility among developing and growing countries. It also had very good and special ties with different international partners and its history lacked any negative implications with regards to imperialism or hegemony.
He also praised the initiative because it does not seek conflict with the existing international system, but integration with world financials institution like the World Bank.