Reorganization, mergers gather pace in coal sector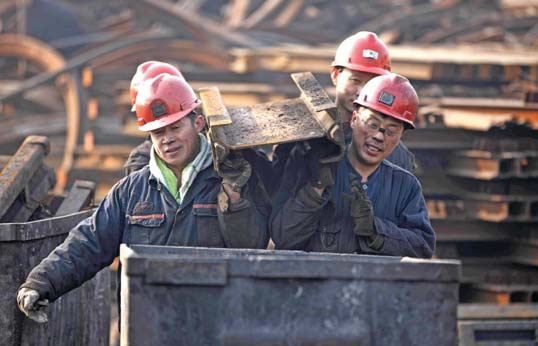 Miners carry parts at a colliery in Huaibei, Anhui province. Xie Zhengyi / For China Daily
Mergers and reorganization of China's central coal enterprises are speeding up, amid the government's effort to promote industry concentration and deepen supply-side structural reform.
China Poly Group Corp announced on Monday that it will transfer its coal business-Poly Energy Holdings Ltd-to China National Coal Group Corp, also known as Chinacoal, which is the second time that Chinacoal has consolidated coal assets.
Owning coal mines in Shanxi province and the Xinjiang Uygur autonomous region, Poly Energy currently has 11 coal mines and controls nearly 2.6 billion metric tons of coal resources.
Last year, the State Development and Investment Corp transferred its 30.31 percent share of Xinji Energy Co Ltd to Chinacoal, which made Chinacoal the biggest shareholder of Xinji Energy, which is engaged in the exploration, washing, processing and distribution of coal.
The Chinese government is trying to create two mega coal giants in the coal industry-Chinacoal and Shenhua Group Corp, whose annual production and sales volume are respectively more than 400 million tons, Securities Times reported on Thursday.
Shenhua has already reached the goal, while Chinacoal's output is expected to be close to 200 million tons, after receiving Poly Energy's assets, the report said.
"There will be more mergers and acquisitions among Chinese coal companies in the next few years," said Mi Pengqi, an analyst at Beijing-based JLC Network Technology Co Ltd, a commodity information provider.
First, the moves will be among central State-owned companies, and some enterprises are likely to spin off divisions which are not their main business, in order to reach the goals of industrial upgrading and overcapacity elimination, he said.
Poly Energy's merger into Chinacoal is that kind of example.
Second, badly run companies belonging to local governments will be absorbed by profitable large enterprises, he said.
In tough times, mergers and acquisitions are likely to occur. China's coal industry remains weak and many companies have suffered heavy losses in recent years.
The State-owned Assets Supervision and Administration Commission of the State Council announced the task of eliminating the excess capacity and disposing "zombie enterprises" in the steel and coal industries in July 2016.
The commission said that it would strive to reduce about 10 percent of the existing capacity in two years, to encourage professional steel and coal companies to become bigger and stronger and to ask other central enterprises involved in coal industry to pull out of the business.
Mergers and reorganizations are conducive to the healthy and stable development of the coal industry, which will see more market-based pricing. Concentration of resources will lead to their more reasonable allocation, and companies' capacity to combat risks will be greatly improved, said Zhang Min, an analyst from Sublime China Information Group, a commodity market information service organization.