M&As to gather pace in coal sector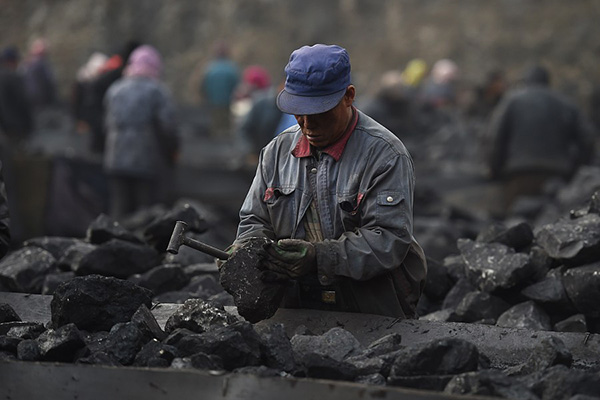 In this photo taken on November 20, 2015, a worker sorts coal on a conveyer belt, near a coal mine at Datong, in China's northern Shanxi province. [Photo/VCG]
Mergers and restructuring among domestic coal sector are accelerating, with about 10 enterprises producing more than 100 million tons of coal annually projected to be established by 2020, Economic Information Daily reported on Thursday.
Related departments have been asked to issue guidance on promoting the sector's mergers, restructuring, transition and upgrade. Small coal mines based in different regions will implement mergers and restructuring within two years, meanwhile, about 10 big companies will be set up by 2020, the newspaper said.
The government also encouraged enterprises to strengthen trans-regional cooperation to cut overcapacity through stock swap.
China will reduce coal production by at least 150 million tons this year, Premier Li Keqiang said in the Government Work Report at the fifth session of the 12th National People's Congress.
The government pledged to make more use of market- and law-based methods to address the problems of "zombie enterprises," encourage enterprise mergers, restructuring, and bankruptcy liquidations.
Last year, six enterprises' production exceeded 100 million tons, while in 2015, it was eight, Zhang Hong, deputy secretary-general of China National Coal Association, told the newspaper.
The State-owned Assets Supervision and Administration Commission earlier said that the number of centrally administered State-owned enterprises (SOEs) will be reduced to no more than 100, which now stands at 102.
The government also promised measures such as introducing a mixed ownership system and more efforts to make SOEs leaner and healthier, especially in the steel, coal and power sectors.
There will be about 3,000 coal enterprises in 2020, mostly large companies, running about 6,000 collieries nationwide, with large-capacity coal mines the majority, according to the coal industry 2016-2020 development plan.