Many startups take plunge without market research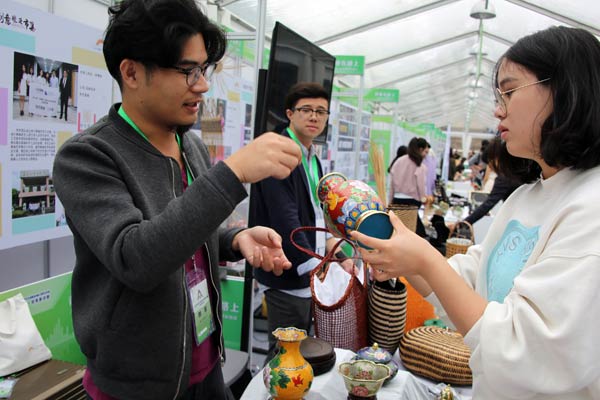 Two college students exchange ideas about new products at a fair to boost innovation and entrepreneurship in Shanghai. [Photo/Xinhua]
China's growing army of young entrepreneurs are failing to prepare well when starting up their businesses, while many embark without any previous work experience, according to a report.
A survey of 4,329 entrepreneurs by the Ministry of Human Resources and Social Security and Chinese microfinance company CreditEase found almost 34 percent were students or new graduates.
Of those surveyed, just over half-65 percent-said they had carried out market research before they started.
Many young people also start a business based on a specific interest, rather than a market need, which increases the risk of failure, Bao Chunlei, a researcher at the Institute of Labor Science, said in December.
One of the young entrepreneurs who has succeeded is Cai Heng, 26, who co-founded Shanghai-based Star StationTV after graduating from the University of Southern California in 2015.
Cai and his team landed two rounds of financing from investors, totaling more than 10 million yuan ($1.44 million).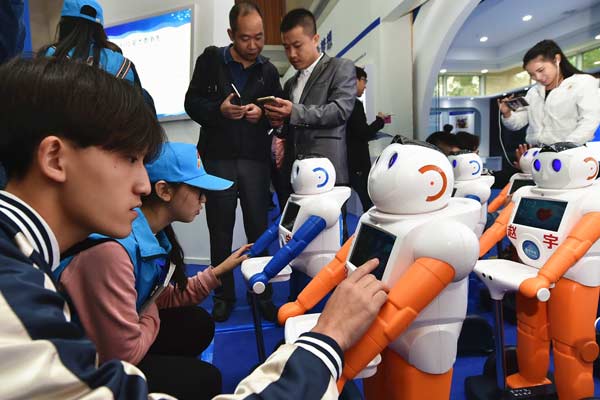 Visitors interact with robots at a fair in Taiyuan, Shanxi province. [Photo/Xinhua]
In a separate survey conducted by the Renmin University of China, 89.8 percent of 434,827 students and new graduates from 1,767 universities in 31 provinces said they had considered starting a business, with 18.2 percent reporting firm intentions to do so.
A lack of funding and inexperience were often cited as obstacles to starting any new businesses, according to the survey. It found nearly 40 percent of young entrepreneurs rely on external capital such as loans from banks, investment organizations, schools and the government.
"Owing to lack of funding, experience and resources, it is really difficult for young entrepreneurs to operate their business at the beginning," the Institute of Labor Science's Bao said. "But they are well-educated, passionate, innovative and eager to learn, which also offers them advantages."
Worldwide funding activity declined 24 percent to $127.4 billion last year compared with 2015, according to a quarterly report on global venture capital trends published by KPMG.
"Not everyone has the ability to launch a startup and not all entrepreneurs succeed," said Wu Daohuai, director of the Ministry of Human Resources and Social Security's department of employment promotion. "It needs basic competency and willingness. People should be rational in their judgments of themselves and analysis of the market."