National entrepreneur training camp lands in Lujiazui
Updated: 2016-12-27
( chinadaily.com.cn )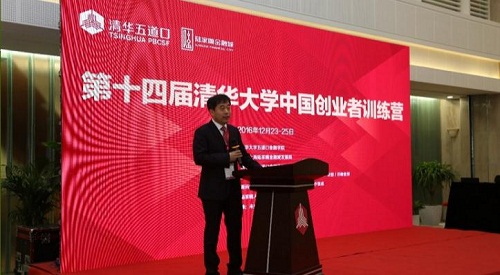 The 14th China Entrepreneur Training Camp opens at an emerging finance industrial park in Lujiazui, Shanghai's financial hub, on Dec 23. [Photo/weiyangx.com]
The 14th China Entrepreneur Training Camp took place at an emerging finance industrial park in Lujiazui, Shanghai's financial hub, from Dec 23-25. It was an opportunity for startup teams to discuss business models and prospects of internet finance in a sharing economy.
Top entrepreneurs such as Wang Huixuan, executive director and co-president of Tsinghua Unigroup, Wang Dong, founder and CEO of zhaogang.com, one of China's leading steel e-commerce platforms, Wang Xiang, chairman and general manager of Fofund Financial Services, and Zhou Zijing, founder and CEO of Ether Capital, were invited as mentors and to share their start-up experiences.
The mentors all agreed that the startup teams have to sort out their strengths, abilities, and resources before starting up a business.
Three founders of sharing-based businesses, namely Chen Chi, CEO of Airbnb-style rental service Xiaozhu.com, Li Jian, CEO of used car trading platform renrenche.com, and Zhang Bingjun, CEO of car-rental firm iCarsclub, shared their views about the current developments and future prospects of the sharing business model.
The camp, launched by the top-rated Tsinghua University PBC School of Finance in 2010, has been held 13 times during the past six years in cities such as Beijing, Shanghai, Shenzhen and Wuhan. It has offers non-profit training programs to nearly 5,000 young entrepreneurs from all over the country. Hundreds of startup firms have benefited from the training.