National entrepreneur training camp lands in Lujiazui
Updated: 2016-12-27
( chinadaily.com.cn )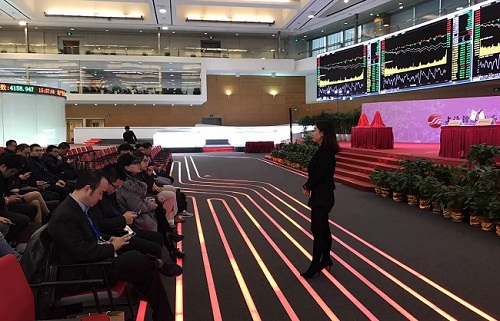 Attendees of the 14th China Entrepreneur Training Camp visit the Shanghai Stock Exchange on Dec 23. The camp took place at an emerging finance industrial park in Lujiazui, Shanghai's financial hub, from Dec 23-25. [Photo/weyangx.com]
This is the first time for the camp to come to Lujiazui. Guo Zhiying, deputy director of the Lujiazui management bureau, commented that the camp brings top startup teams and mentors to Lujiazui, helping improve the area's entrepreneurship environment.
The camp's host venue, Lujiazui Emerging Finance Park, is an incubation base for financial technology and private fund startups. Thanks to the park, Lujiazui has brought in more than 2,000 emerging companies covering private funds, financial leasing, financial technology, wealth management and other fields over the past two years.
According to Guo, Lujiazui, which has the largest number of financial institutions and the most complete financial environment in China, can give startups easier access to capital, talent, and cooperation partners.
Currently, Lujiazui is home to 35,000 enterprises, 12 factor markets, 80 percent of the country's foreign-funded banks, one third of the country's public and private fund firms, and 200,000 finance workers.
During the camp, a second edition of the Global Internet Finance Business Model Report, which is a common reference for startups, was released, updated from the first edition provided during the World Internet Conference held in Wuzhen, Zhejiang province, in 2015.