Entrepreneurship gains popularity in Shanghai schools
Updated: 2017-01-06
( China Daily USA )
The end-of-semester assignment for senior student Han Xu and freshman Greta Solomon from New York University Shanghai was a rather unconventional one that did not involve lengthy essays - they had to sell T-shirts.
About 20 students from the cohort were presented with the challenge of designing business models, following which they were given just two hours to implement them. Han and Solomon stood out from the competition by selling 200 T-shirts.
"In just two weeks, we had to design and review the images that were to be printed on the T-shirts, find business partners and negotiate deals with them, create posters and promote our event on Chinese and English social media," said Han, who joked that he almost suffered from a mental breakdown during the assignment.
"Through this project I've learned what it takes to start a new business. I've also learned how to deploy every possible resource around me and what is required to manage emergencies."
A growing number of educational institutions in major Chinese cities like Shanghai have in recent years been advocating entrepreneurship, either through challenges like this or via special courses and guest lecturer appearances.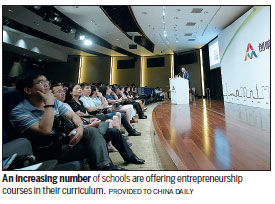 Eight renowned universities in Shanghai, including Fudan, Tongji and Shanghai University of Finance and Economics, had in 2010 established a network to help college students start their own businesses. According to the authorities of Yangpu district where most of these universities are located, the initiative has since its inception benefitted about 6,000 students who got the chance to learn about the real life experiences of successful entrepreneurs and intern at startup companies.
At Shanghai Jiao Tong University, students can choose from 34 courses related to innovation and startup businesses. The university also allows students to take a hiatus from school for as long as two years to pursue their startup ambitions.
At the Shanghai American School, entrepreneurship courses are available in both the International Baccalaureate and Advanced Placement programs. Students can also start their own entrepreneurship clubs - William Kim, 18, was the first to do so in 2015.
Kim said that the courses the school offers, such as IB Business and IB Economics, provided him with vital knowledge about being an entrepreneur, while his club's activities, conducted under the guidance of a teacher, exposed him to invaluable real-world experiences.
"It's the school that helped me realize it was business that I really wanted to do. I'll always be grateful for these opportunities. Without them, I don't think I'll be prepared to even enter a firm," said Kim.
Junior Achievement International China, the world's largest non-profit organization dedicated to educating students about work readiness, entrepreneurship and financial literacy, found out that about 71 percent of Chinese high school students are interested to learn how to start their own businesses. However, only 18 percent of Chinese students - in contrast to 45 percent of students in the US - said they have opportunities to attend such courses.
While local public high schools have yet to actively champion entrepreneurship, one incident in 2015 suggests that even such educational institutions are supportive of the cause.
When it was discovered that a grade-one student had frequently skipped class in order to operate an online cosmetics store, administrators from the high school in Shanghai's Jiading district actually encouraged him to find a balance between his studies and business instead of meting out punishment.