Renewables investments surge to help clear the air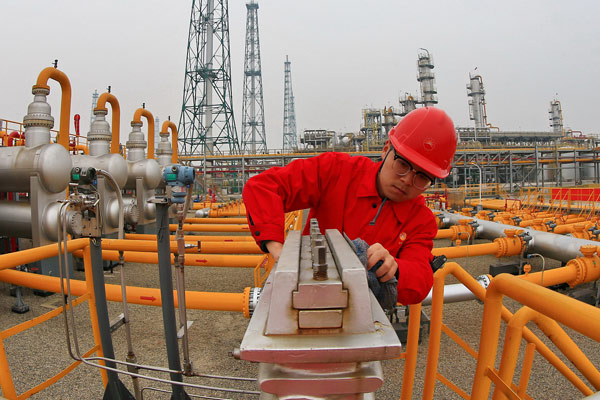 A worker checks natural gas supply systems in Suining, Sichuan province, on Tuesday. China will increase the production and consumption of natural gas. [Photo by Zhong Min/For China Daily]
China plans massive investment in clean and renewable energy up to 2020 to help the battle for clear skies, aiming for a significant reduction in pollutants released into the air.
The investment could amount to 2.5 trillion yuan ($360 billion), according to the energy development plan for the 13th Five-Year Plan (2016-20).
The country has set an annual target of clean and renewable energy consumption that is equivalent of 580 million metric tons of coal, the National Energy Administration said on Thursday.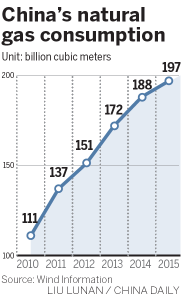 It will help reduce emissions of carbon dioxide by 1.4 billion tons, sulfur dioxide by 10 million tons, nitric oxide by 4.3 million tons and dust by 5.8 million tons. Coal burning is a main cause of smog in northern regions.
Installed renewable power capacity covering wind, solar, hydro and nuclear power will account for 50 percent of new electricity generation capacity by 2020, the NEA said.
Joseph Jacobelli, a senior analyst with Asia utilities and infrastructure research at Bloomberg Intelligence, said the country's investment in clean energy will help reduce the major pollutants contributing to the smog.
"As the amount of generation from clean energy sources rises, that from coal-fired generation will gradually come down, together with its pollutants," said Jacobelli.
"China's push for clean energy since the 12th Five-Year Plan (2011-15) has indeed worked in reducing emissions from the power sector and the nation has achieved some success as the contribution from clean power sources such as wind and solar has sharply increased."
It will create more than 13 million jobs in the sector, said the administration.
The focus on renewable energy also reflects China's continued focus on curbing the use of fossil fuels, which have driven the country's economic growth over the past 10 years.
"However, replacing traditional sources of energy with renewables takes a long time," said Li Li, energy research director at ICIS China.
China, the world's largest coal consumer and producer, will continuously reduce the share of coal in its overall energy mix.
Coal consumption will be reduced to 58 percent during the 13th Five-Year Plan, and the proportion of non-fossil fuel consumption will exceed 15 percent.