Nissan
Two Nissan Intelligent Driving cars gave autonomous rides around the Renault-Nissan Silicon Valley Research Center to 25 reporters from China, Japan, France, Italy, and the US on Jan 7 and Jan 8, 2016. The car carried three reporters on each of the roughly 25-minute, 16-kilometer urban road tests.
Carlos Ghosn, chairman and CEO of Renault-Nissan Alliance, experienced an autonomous ride one day prior to the media program.
Tetsuya Iijima, general manager of Nissan's advanced driver assistance systems and the autonomous driving engineering department, turned over control to the system when the car was on the main street. The car accelerated, braked, stopped at signals, switched lanes, made turns and, finally, stopped in front of a police car invited for the purpose of the test.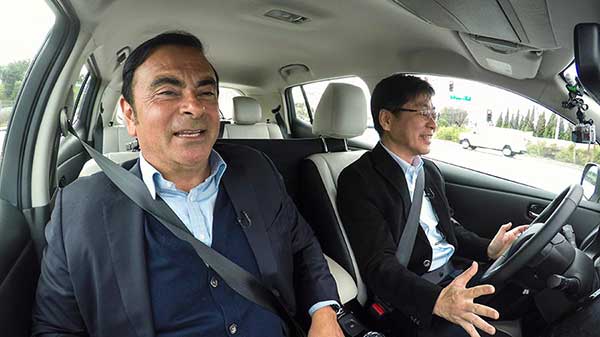 Chairman and CEO of Renault-Nissan Alliance Carlos Ghosn (left) takes the passenger seat in a Nissan Intelligent Driving car while Tetsuya Iijima, in charge of developing advanced driver assistance systems for Nissan Motor, relinquishes control of the vehicle, Jan 6, 2016. [Photo provided to China Daily]