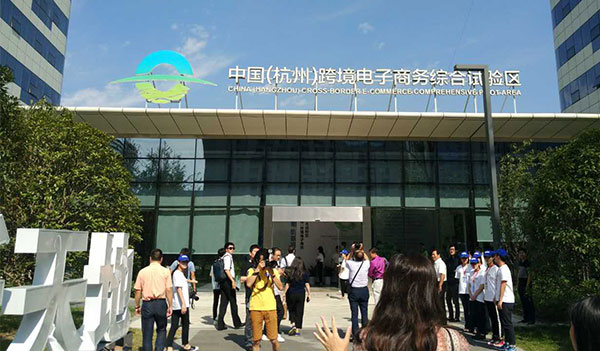 A special area for cross border e-commerce in Hangzhou. [Photo/chinadaily.com.cn]
Hangzhou, which is hosting this year's Business 20 summit and G20 summit, has been putting the Electronic World Trade Platform (e-WTP) concept into practice by constructing a special cross-border e-commerce area, a city official says.
The e-WTP is one of the key initiatives, alongside developing a multilateral trading system and promoting green financing, in the policy advice report that has been delivered to the G20 leaders.
Jack Ma, founder of the Alibaba Group, proposed the e-WTP idea, saying it was a mechanism for public-private dialogue in the development of cross-border e-trade. He said it would improve the current trade framework and help small and medium-sized enterprises and developing countries.
The e-WTP would do the same for cross-border e-commerce in Hangzhou where the headquarters of Alibaba lie, said Wang Chong, vice director of China (Hangzhou) Cross-Border E-Commerce Comprehensive Pilot Area.
The government's saying is "cross-border e-commerce" and the e-WTP is a market one, he said Saturday while introducing the pilot area to journalists.
The pilot area was approved by the State Council in March last year. According to official data, Hangzhou has seen the cross-border e-trade volume increase from less than $20 million in 2014 to $3.46 billion last year after the establishment of the pilot area.
Wang said that the e-trade volume might be doubled this year.
The Internet plus strategy, the innovations based on "go digital" and the big data have made free trade a reality, not a dream in the city, he said. The city has made efforts in securing free trade, such as 24-hour customs clearance.
The pilot area innovated management and service systems in the business process, supervision modes and technical standards covering cross-border e-commerce trading, payment, logistics, customs clearance, tax refunds and exchange settlements.
The pilot area has completed the construction of the country's first cross-border e-commerce comprehensive service platform and two groups of 86 innovative systems have been put in place.
To help companies to promote their products and better their services in the cross-border trading, the city government has also introduced many technology-based innovative businesses to provide the e-commerce companies services, such as the e-commerce system supporter Xorder.
Zhang Kangkang, CEO of Hangzhou Jiuqian Technology Co Ltd, an online payment service company in the pilot area, said that the local government had offered his company free offices for three years in the pilot area, cutting their taxes as well as offering tax-refund due to their revenue.
The State Council has decided this January to promote the experiences of the Hangzhou pilot area, such as the policy and management systems, to other cities.