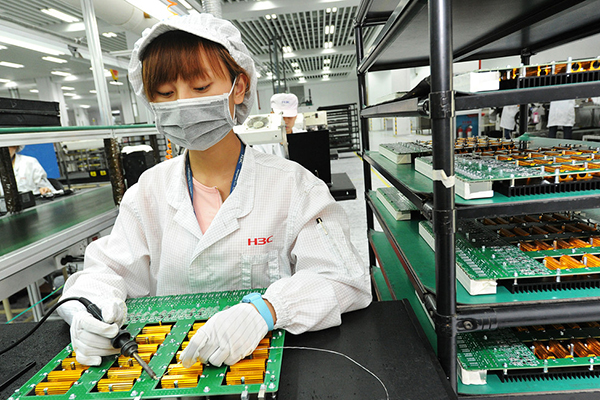 An employee of New H3C Group, a Hangzhou-based information technology solution provider, doing a soldering job. [Photo provided to China Daily]
New H3C Group, a Hangzhou-based information technology solution provider, is using more integrated solutions to ensure the higher efficiency of backstage IT systems.
"The key to more efficient IT systems is integration. Traditionally, the IT infrastructure is fragmented. When the engineer sends one signal, it is very slow to be carried through because of the lack of the organic connection of different resources," said Wu Jian, chief of the cloud computing product department of New H3C.
The company's new systematic solution plan, the unified information system, has increased the backstage operation IT system significantly.
New H3C provides customers with a full range of servers, storage, networking, security products, hyper-converged infrastructure and IT management systems. Its products have been widely deployed in nearly 100 countries and regions serving customers such as Vodafone, Telefonica, Swiss Telecom, DreamWorks and Samsung Electronics. Its revenue in 2015 stood at 21 billion yuan ($3.1 billion).
In the company's survey of its customers, it found that IT system maintenance engineers complained about the complicated operation process in which they have to log onto different interfaces to manage different parts of the system, such as the power supply, the CPU, the machine cabinets, and the memory.
"UIS aims to make the systems management simpler," said Wu.
According to Wu, with UIS, the engineers are able to monitor all parts of the IT system in one interface. To some extent, it needs only one engineer to manage the system.
New H3C has cooperated with more than 200 universities to help them boost the efficiency of their education system. One noticeable result is that the UIS has overcome the problem of user crowding that causes congestion and systematic breakdown in course selection.
For instance, in a school of 20,000 students, it usually takes three days for the students to complete the course selection. Now, it only takes three hours with the UIS-backed system.
"UIS has turned IT capacity into a service like running water or electricity. When the course selection system is running, the capacity will flow to the system. When the course selection is completed, it will flow to other places that need it most, said Wu.
In its service directly facing the consumers, New H3C has been taking the lead in Wi-Fi product development.
"Stable Wi-Fi services attract more users, which then will become potential customers of more products and services," said Bai Lang, head of the wireless product department of New H3C.
At the World Internet Conference held last year in Wuzhen, Zhejiang, H3C's Wi-Fi solution realized 20 mega bytes of data per capita. The whole venue of the conference had nearly 3,000 access points. In peak hours more than 6,000 people were connected to the internet at the same time.
According to China Internet Network Information Center, as of June 2015, 88.9 percent Chinese internet users use mobile phones to get connected to the internet while 93 percent of mobile phone users access the internet by Wi-Fi.
According to Bai, Chinese enterprises at the moment have 15 million units of Wi-Fi devices and New H3C's products account for 30 percent of them. It has around 5 million access points throughout the country, covering more than 20 industries such as medical services, education and retail.