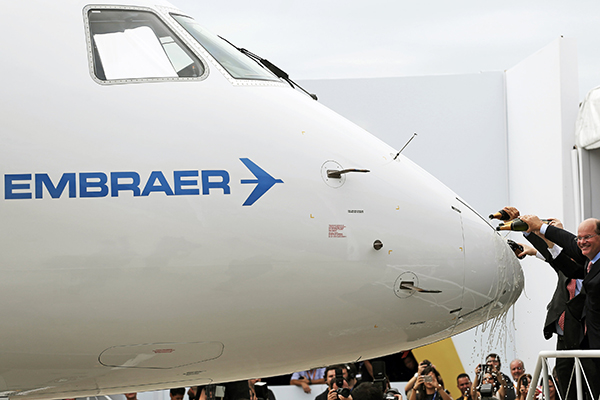 Brazilian aircraft maker Embraer's CEO Frederico Curado (R) pours champagne on an new Embraer E190-E2 during its unveil in Sao Jose dos Campos, Brazil, February 25, 2016. [Photo/Agencies]
RIO DE JANEIRO - Brazilian airplane manufacturer, Embraer, has signed a contract to sell up to five E190 planes to China's Colorful Guizhou Airlines for a value of up to $249 million, the company announced late on Friday.
In a press release, Embraer said the sale was concluded Friday during a Brazil-China business seminar in Shanghai, attended by Brazil's President Michel Temer.
The deal includes the confirmed purchase of two planes and the right to purchase three more. The first two will be delivered in 2017.
Embraer also sealed the sale of two Phenom 300 private jets to Colorful Yunnan General Aviation.
Embraer's director-general Paulo Cesar de Souza, stated that this sale confirms China's growing interest in Embraer. He added that over the past 15 years, Embraer has delivered 230 planes to China.
"China has huge potential for us and...represents 12 percent of our income," commented de Souza, who highlighted that Temer was presented in order to send a message of trust to investors and promote the commercial interests of Brazilian companies.
Colorful Guizhou's chairman, Zhai Yan, also said that "we hope that the E190 fleet can help us build a sky passageway inside and beyond Guizhou Province, and eventually contribute to improving the connectivity of China's Southwest Region.