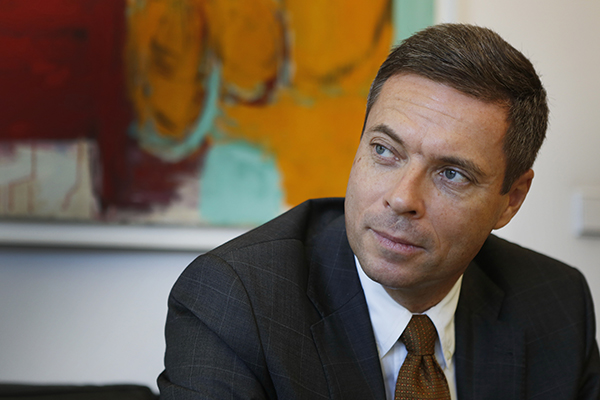 Michael Clauss German Ambassador to China. [Photo/China Daily]
Germany welcomes China's G20 economic agenda and called for more innovation, less protectionism and more structural reforms, German ambassador to China Michael Clauss told China Daily ahead of the summit.
"We strongly welcome that China has put the question of how to reanimate the world's economy at the top of the agenda. We hope that the summit will help us move forward with respect to three issues in particular: more innovation, less protectionism and more structural reforms," said the ambassador.
"We believe that for bringing us back on a path toward sustainable growth, the world needs to move further on these three issues. We are glad China will raise them in Hangzhou and we expect that the summit will generate much needed momentum."
Leaders of G20 members and important international organizations will gather in eastern China's Hangzhou to look for solutions against a backdrop of enervated global growth.
There are high expectations on world leaders to move away from debt-reducing austerity policies toward more fiscal expansion.
"Growth propped up by unsustainable debt can no longer be the answer. Many economies around the world are held back by deep-rooted structural problems. If these were addressed by constructive reforms, the world's economy would quickly become more resilient and dynamic," said the ambassador.
"We strongly believe that structural reforms are keys to reviving the world's economy and we welcome that China has put this issue on the summit agenda."
Clauss also called for removing protectionism.
According to a report on G20 trade measures from World Trade Organization, the application of new trade-restrictive measures by G20 economies increased in the period between mid-October of last year and mid-May of 2016, when compared to the previous reporting period.
It has already reached the highest monthly average registered since the WTO began its monitoring exercise in 2009.
"Germany is convinced that protectionism constitutes a major hindrance and threat to the world economy. We hope that the G20 will send out powerful signals in favor of free trade and open markets," he said.
Beside economics and finance issues, Germany will call for a swift implementation of the Paris agreement on climate change and will advocate for discussing the danger resistance to antibiotics poses to global health.
"We would also like to see flight and migration addressed. The current refugee crisis is a global phenomenon, and Germany has been particularly affected. Given that the G20 members represent 80 percent of the world economy, there could be no better platform to discuss these issues," said the ambassador.
Germany will take over the G20 presidency next year. Clauss said many issues such as sustainable growth and the challenge of refugees will continue to be discussed in Hamburg in July 2017.